Or: Turning the Corner...Please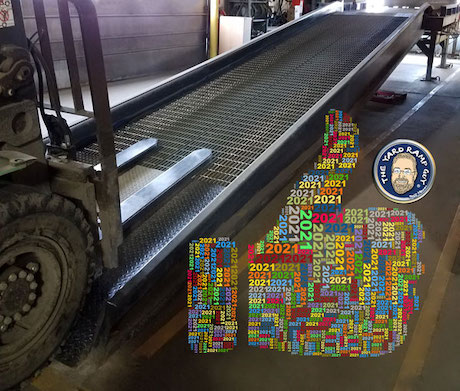 2020: we want to put it behind us; we suspect we won't forget it.
The events of this past year have been tumultuous. Here are some of the more notable projects in which The Yard Ramp Guy was involved.
Business in the Midst of Crisis
When the pandemic struck, we kept moving forward ⏤ not as if it hadn't happened. Rather, we gauged that it was very much happening and that the supply-and-demand balance would adjust in ways none of us could readily predict. And adjust it did. Some of the largest industries we serve, including manufacturing and construction, adapted to the changed landscape.
Like the yard ramps we rent and sell, our business model informs the very idea that we work diligently and without complaint to help operations work more efficiently.
That featured most prominently in our registering with ThomasNet's COVID-19 Response Supplier network. We have been involved in providing industrial forklift ramps to emergency sites. Our factories, freight broker, and turnkey service providers continue to stand by for orders. YARD RAMPS classify as essential tools to emergency service and product providers combatting the pandemic. For example, we've placed ramps at Coronavirus Emergency Distribution staging sites. We've also rented a ramp to a hospital in NYC ⏤ sadly, to provide access to refrigeration trucks serving as temporary morgues. Grisly, yes, yet essential, and we're honored in a melancholy way to contribute.
In Stock & Ready for Delivery
In June, we launched one of our most ambitious ventures to date: we now supply in-stock, ready-to-go inventory, available for immediate delivery. Our strategic location of these mobile hydraulic yard ramps and stationary dock ramps provide three advantages:
You save money on cost, due to The Yard Ramp Guy's prices being among the lowest in the country.
You benefit from fast delivery, with the ability to, say, place your order on Monday, pay us Tuesday, and receive your ramp as early as Wednesday.
You save money on freight, as you'll find our shipping locations geographically distributed.
We currently cover the Central United States and the West coast, with locations in California, Illinois, Missouri, Ohio, and Texas, with more to come. For details...
Financing & Tax Deductions
Buy any qualifying equipment and place it into use by midnight on December 31, 2020, and you can deduct it for the year. That applies for purchases up to $1,040,000.
We spotlight the Section 179 Deduction prominently throughout our site, offering three quality partner financing options for your consideration.
The financing and the deduction are attractive to businesses that can't afford immediate expenditure and also to companies that can afford it, yet want to leverage the situation in order to have more cash on hand rolling into the following fiscal quarters.
Advantages include:
You gain immediate use of a yard ramp from our quality inventory.

Greater flexibility and fewer restrictions than typical bank loans.

With a payment plan, your ledger can better absorb the cost of a yard ramp over time. Keep more of your cash in house for working capital.

Tax advantages (i.e., the Section 179 deduction): In most situations, you'll be able to deduct the full cost of a yard ramp as a business expense.
Whatever your situation, and whether that includes one of our quality new yard ramps or used forklift ramps, we encourage you to consider taking advantage of the Section 179 Deduction for your business.
Ho ho ho.
This week, our man McCoy Fields takes a trip and never leaves the farm...or, in this case, the kitchen.
Click HERE to read all about your very own gizmos you didn't know were fascinating.