Mobile Yard Ramps to Help Your Business
While there are many different pieces of equipment that will allow your business to function at top efficiency, arguably there is nothing more essential to the efficiency of your business than great shipping and receiving. With mobile yard ramps, you can eliminate many of the issues that plague your shipping and receiving department. It doesn't matter how big or small your business is; everyone can benefit from the use of portable yard ramps.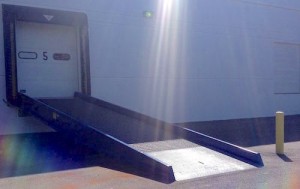 The great thing about mobile yard ramps is that they come in all shapes and sizes to deal with the many differences between businesses. You may only need mobile yard ramps for the small distance between the loading dock and the truck bed. In that case, you will need a small truck ramp, usually made of fiberglass or aluminum, and designed for small carts or dollies. On the other hand, if you have a greater distance to cover with your loading and unloading, or if you have heavier equipment, you may benefit from the use of portable yard ramps.
One of the worst things to happen to your daily productivity is the inability to load or unload a truck because your docks are all taken. With mobile yard ramps, you don't need a loading dock at all. You can transport these portable yard ramps to the waiting truck and allow all your materials to be offloaded with easy. This kind of flexibility is paramount for your business. You can benefit from the use of mobile yard ramps even if you don't have regular loading docks.
Safety and mobility should be the two most important considerations when you choose portable yard ramps. For example, you need to know that the ramp you purchase or rent has safety features like serrated steel grating, to allow forklifts and hand carts proper tracking on the ramp. You also want to look at models that come with hydraulic pumps. Mobile yard ramps with hydraulics are easier to adjust to the proper height and position.
We carry an extensive collection of mobile yard ramps. You won't believe the functionality that these ramps add to your shipping and receiving, and you'll love how easy they are to use. With mobile yard ramps, you can always have a place to unload your trucks, and you'll never lose time waiting for an open loading dock again. It's a simple solution that has extraordinary benefit.
Mobile yard ramps can add productivity to your shipping and receiving department. Allow The Yard Ramp Guy to help you find the perfect mobile yard ramp for your business.