The Largest Inventory of Used Yard Ramps & Portable Loading Docks in the U.S.
Since 2011, we've grown to become the material handling industry's "go-to guy" for buying pre-owned yard ramps. Unlike cars, yard ramps can't be traded in for new. Yet, buying a used yard ramp (which has an average useful life of 17 years) is a wise buying decision for companies that want to minimize capital expenditures. To ensure structural integrity, we visually inspect all ramps before buying them directly from a seller or acting as a broker. Most of our buyers let us arrange the somewhat complex shipping: via flatbed trailer and requiring a crane truck to unload at destination. Transit time depends on distance; generally, deliveries are made between 1-3 days for a dedicated truck and 3-5 days for shared load.
Used Yard Ramp Inventory
⏤ our RENTALS are also available for sale ⏤
CLICK

VIEW

for SPECS & PIX
CITY
ST
PRICE
CAP
W
L
ID
VIEW

Bradford

AR

$13,500.00


MSRP: $14,575

20K lbs

96"

38'

8954
VIEW

Walnut

MS

$11,800.00


20K lbs

84"

36'

3106
VIEW

Denton

NC

$2,250.00


MSRP: $10,895

20K lbs

144"

144"

8005
CLICK

VIEW

for SPECS & PIX
CITY
ST
PRICE
CAP
W
L
ID
VIEW

Denton

NC

$13,200.00


MSRP: $15,585

30K lbs

95"

38'

8188
VIEW

East Brunswick

NJ

$5,500.00


MSRP: $8,212

16K lbs

70"

36'

8956
VIEW

Elko

NV

$32,000.00


MSRP: $73,143

Mobile Steel Yard Ramp with Stationary Platform: See Listing for Specs

9272
VIEW

Oklahoma City

OK

$25,000.00


MSRP: $50,000

Cross-Dock / Transloading Platform: See Listing for Specs

8049a
CLICK

VIEW

for SPECS & PIX
CITY
ST
PRICE
CAP
W
L
ID
VIEW

Carlisle

PA

$6,000.00


MSRP: $7,725

16K lbs

70"

30'

9620
VIEW

Philadelphia

PA

$1,250.00

Handrail Set

30'

6007
VIEW

Robstown

TX

$5,000.00


MSRP: $8,495

16 lbs

84"

36'

9068a
The Yard Ramp Guy Difference
We are proud to be the leading used yard ramp supplier in the United States. As a testament to our success, other (much larger) companies followed our lead soon after we launched the service in 2011. Here's what makes us different in providing used loading dock ramp solutions:
Real Used Inventory. The listings on this page are all REAL. Other companies direct you to "Call for a Quote" because they do not actually maintain a real fleet of used ramps, typically resulting in a sales pitch to buy a new ramp.
Convenient Locations. With yard ramps located throughout the United States, most of Yard Ramps, Inc. inventory sits within 250 miles of 90% of the population. That's important for speeding up delivery and cutting your freight costs.
Streamlined Shipping & Delivery. Yes, shipping 30'-long ramps that weigh up to 10 tons can present logistical challenges. Over the years, we've perfected a system for efficient delivery, developing close working relationships with a network of flatbed truckers and wreckers.
First We Earn Your Trust, Then We Earn Your Business.
You should expect and enjoy a respectful, continuous flow of communication when working with The Yard Ramp Guy.
During your purchasing process, expect follow ups.
While we process your sale or rental, expect updates.
And expect a sincere thank you when our work is done.
The Yard Ramp Guy Now Carries
New Mobile Yard Ramps &
New Stationary Dock Ramps.
In Stock. Ready to Ship.
Save $$$ on Ramp Cost
Fast Delivery
Save $$$ on Freight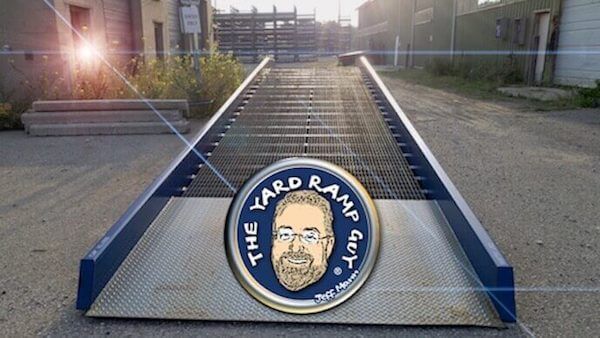 From a Satisfied Buyer:
"The experience working with The Yard Ramp Guy was outstanding. Having done this for some time now all across the country, it was a huge relief when this process went as smoothly as it did. I credit your staff with outstanding communications. That is what I valued the most throughout the process: every email and call was answered immediately, and you all took the time to assist us with every aspect—from purchase all the way to offloading. When I had questions or concerns, you continued the support right away and with much respect. Kudos to you and your team on conducting yourselves and your business this way."
Used Ramps/Platforms: Appraised Condition
The Yard Ramp Guy assesses each yard ramp's condition based upon client interview, photos and, where possible, original documentation. 
Buyers are welcomed to inspect the ramp prior to purchase. Site visits will be arranged by The Yard Ramp Guy upon request. 
All used ramps are subject to prior sale and are sold or rented "AS IS."
Turnkey Delivery & Installation Services
A terrific value-added option: With our Turnkey Delivery and Installation Services, we're able to transport, off-load, and install your loading dock.
We literally do the heavy lifting for your Off-Load and Dock Installation needs. 
While you focus on what you do for a living, we focus on saving you time and money.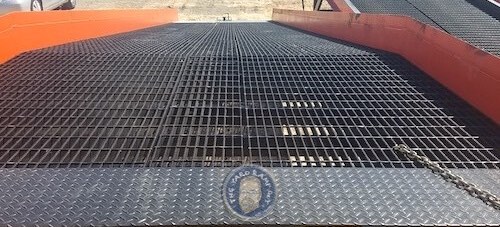 Buy a Yard Ramp Right Now & Take
a Full Section 179 Deduction for This Year!
We thank you for the opportunity to earn your business.