Yard Ramps • Forklift Ramps • Portable Loading Docks: A Buyer's Guide
We pride ourselves on industry-leading inventory, a firm commitment to excellence in customer service, and clear lines of communication. Below is our buyer's guide: major considerations when choosing quality yard ramps for purchase or rental. Contact us — 888.977.4224 — to discuss your requirements.
Buying New Yard Ramps
We work only with well-known and highly-respected manufacturers of yard ramps and platform systems of the highest quality. Visit our New Ramp Gallery to view our selections that meet the needs of our customer base.
2 Considerations When Shopping for New Yard Ramps:
1.  Who gives you the best deal?
Price is king. We would be in one heck of a state-of-denial not to admit it. The Yard Ramp Guy believes if we are one of your quoted options, AND you end up buying a ramp, you bought that ramp from us. Our purchasing power and low overhead permit us to price our new ramps lower than our fellow dealers and, often-times, lower than what you'd get factory-direct.
2.  How long do you expect to need a ramp?
If you need your ramp for less than ten (10) years, ask The Yard Ramp Guy about our Buy-Back Program. You should consider not only the cost of purchasing a ramp but the value by which you'll mitigate that cost when The Yard Ramp Guy helps you convert that steel back into cash.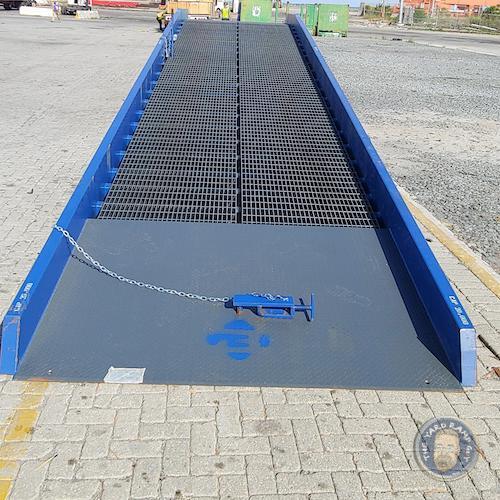 Renting Yard Ramps
Our rental yard ramps are a cost-effective alternative to purchasing, especially if you require only occasional use of one or you want to try before you buy. Visit our gallery of Rental Ramps & Platforms. You can expect all mobility and leveling accessory parts to be included with our rental yard ramps. All used yard ramps are sold or rented as is. All rental yard ramps are subject to prior sale.
3 Things to Consider When Renting Yard Ramps:
1.  Ramp Specifications
Most of our ramps are rated for 20K lb capacity, 84" wide (78" usable deck) and 36' long with 30' incline and 6' level-off. This makes them ideal for 90% or more of the rental market for ground-to-truck and ground-to-dock applications. We do occasionally have used ramps of a variety of specifications we make available for rental.
2.  Availability
Each of our ramps are noted with their expected availability date. Because The Yard Ramp Guy offers renters the option to extend their rental period, we cannot be 100% certain of the availability of a specific ramp. It also occurs from time to time that a renter will be done with their rental early. We also take in new and used ramps regularly and these may not have been posted to our site yet. Be sure to ask.
3.  Location
The Yard Ramp Guy will always seek out a ramp for you that is nearest your location in an effort to reduce the cost of freight for you. Rentals require the renter to pay the delivery freight as well as the return freight.
With yard ramps located throughout the United States, most of our inventory sits within 250 miles of 90% of the population. This results in considerably reduced delivery and return freight costs. This means, for example, the ramp you receive may have a cost of $950 for delivery freight, but the return freight may be only $500. None of the few who rent ramps can offer the same value.
---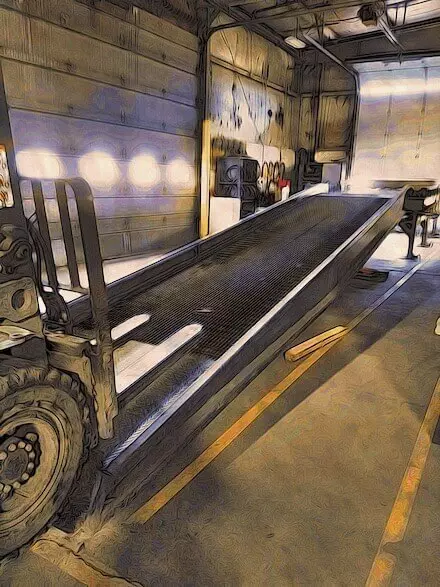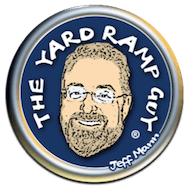 We are the only company in the United States that offers rental ramps throughout the country. Every. Day.
Buying Used Yard Ramps
We buy used yard ramps from our customers and other independent sellers. Check our postings of available Used Ramps & Platforms. We inspect each yard ramp's condition thoroughly before presenting them on our site.
5 Considerations When Shopping for Used Yard Ramps:
1.  Your Application
You may see a yard ramp near you but if that ramp doesn't meet your requirements it has no value. The Yard Ramp Guy team works diligently to find the best ramps for your application.
2.  Your Location
You may see the perfect yard ramp for your application but if that ramp is geographically undesirable (read: high freight cost) it has no value. We always seek to match your needs with the ramp nearest your location and with the lowest freight costs.
3.  Pricing
Before you rule out a ramp because you think it is priced too high, consider this: There are only two reasons to own a ramp ⏤ Greater Efficiency and Greater Safety. Choosing one over the other will not serve you.
4.  The Unposted Gem
The Yard Ramp Guy receives several calls per week from sellers of yard ramps. Used ramps typically sell quickly. And while we keep our website listings updated regularly, it is quite possible we have used yard ramps that have not yet been posted to our site. Call us. Perhaps you'll find that unposted gem.
5.  The CarMax™ Model
Did you know CarMax™ supplies 75% of the used cars sold on competitor used lots? They take in an enormous number of used cars but only keep 10% of those vehicles to sell on their own lots. Why? They only keep the very best of the used cars they buy from consumers. The Yard Ramp Guy takes the same approach. Why? There are only two reasons to own or rent a yard ramp: Efficiency and Safety. A yard ramp in substandard condition eliminates 50% of the value and jeopardizes the ability to achieve the other 50% of the value.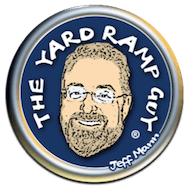 The Yard Ramp Guy guides you through your buying process. We relish creative deal-making, the kind our competitors are not willing or able to offer.
Buy a Yard Ramp Right Now & Take
a Full Section 179 Deduction for This Year!