What Others Say About Working with
The Yard Ramp Guy
"Repetition makes reputation and reputation makes customers."
— Elizabeth Arden
---
The Yard Ramp Guy takes pride in the generous comments we receive from customers, sellers, vendors, and even our friendly competitors.
Please take a moment to find someone similar to you.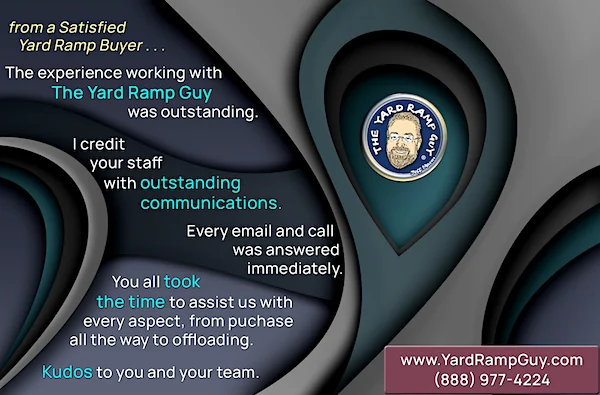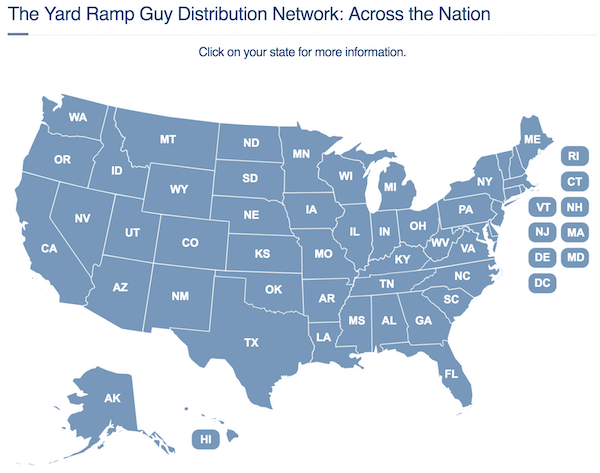 ---
First We Earn Your Trust
At The Yard Ramp Guy, we help our customers develop better ideas, which leads to better relationships. That's especially true when their current need is not a match for our inventory or turnkey services.
Recently, a prospect needed help moving his equipment. What happened when his need and our offering didn't align? Rather than saying "no" and hanging up, we took a little time to brainstorm and research options. We believe when the time is right, we'll do business together. And we will be honored to have earned it.
I very much appreciate all of your help today. Very good to know you and your expertise.

I reached out to the company you found for us and was able to secure a truck, so it ended up being a great connection.

I will remember this, and hopefully karma will whip back around and let me help you some day.
Jeff S. of Jonesboro, AR
Manufacturing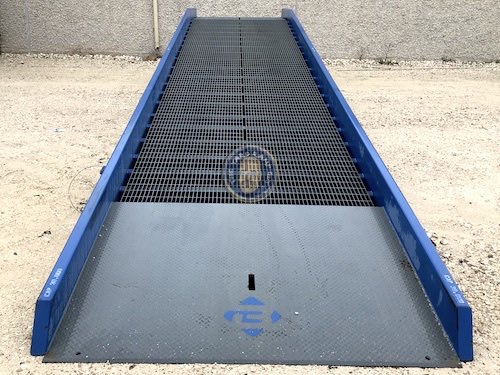 Latest Reviews From Our . . .
---
We a very happy with our ramp. I am even more happy with the customer service I received. There were 5 different people I spoke with that all worked together flawlessly to get this accomplished for us. I received calls on a "play by play'' basis letting me know what was the next step. The delivery truck drove through the ice storm in NC to get it to us. I expected to be told it was going to be delayed a couple days due to the ice storm, but that was not the case.

Everyone was very nice and accommodating. The installer even accommodated MY schedule coming in at 6pm to install. Everyone including our UPS driver has commented on how nice our ramp looks. If anyone I know needs a ramp installed, I will definitely be recommending "The Yard Ramp Guy." All of my Employees are very grateful they do not have to unload their trucks in the cold/rain/snow/heat anymore thanks to your ramp! Thank you to everyone that was involved in making this a smooth and accommodating process.
Ericka H. of Cincinnati, OH
Construction
---
Thank you, Jim, for all your help with this. Please also thank Mike and Jeff. It was a pleasure working with all of you. We may be contacting you when they are finished with the ramp for your buy back program.
Dina J. of Chicago, Il
Construction
---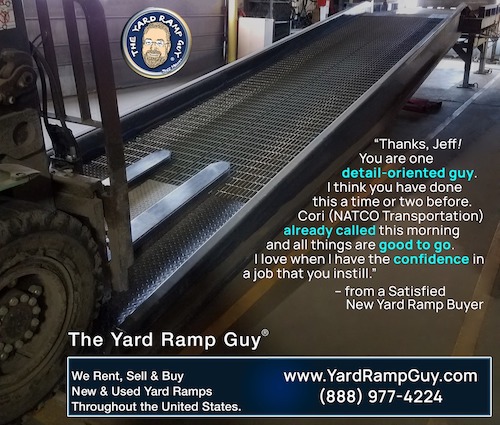 ---
Our yard ramp was delivered and is working out great for us. I want to thank you and your team for being so quick to intercept any complications and have immediate solutions. I would most certainly recommend The Yard Ramp Guy to anyone who is looking for such a product. I think speed and quality would be a great description for what is to be expected when dealing with your team.
Zach R. of Batesville, AR
Retail Industry
---
I feel inclined (pun intended). You have not only "earned" our business, but you have it for life as far as I am concerned. I have had very few vendors work through a manufacturer's major mess-up as quickly as you did, not only once but twice on the same order. The Yard Ramp Guy (that is you) has outstanding service!
Cheri C. of Seattle, WA
Entertainment
---
The *new ramp looks great. Everything went well.
Glen A. of Newport Beach, CA
Real Estate Development
* NOTE: Proudly. . .this is one of our many repeat customers, who bought new yard ramps from us in 2017 and 2018.
---
It was a pleasure doing business with you. You all went out of your way to help us secure a ramp on a short timeline. Thanks again!.
Lane S. of El Campo, TX
Agribusiness
---
Installed this morning, and everything works great for our needs. Thank you for a smooth transaction. It's a pleasure doing business with you.
Ben G. of Lawrence, KS
Warehouse Operations
---
This is the second ramp we purchased from you, and we are completely satisfied with everything. The turnaround time was amazingly fast, especially for a custom ramp built to our specs. The installation was a little bit of a *hassle this time around, but everything got resolved accordingly, thanks to you. In the future, if we need another ramp we will definitely be reaching out to you. Thanks for everything.
Chris U. of San Antonio, TX
Auto Repair
* NOTE: Two ramps had been loaded in the wrong order, with his on the bottom. We redirected the flatbed carrier to the second (nearby) drop point before returning to off-load this ramp. (Anyone can do things right. We believe the character of a company shows in how it handles problems when something goes wrong.)
---
I would recommend The Yard Ramp Guy for your ramp needs. From the start to finish, the process was easy. They walked me through the purchase and lived up to expectations all the way. This has made my job easier and safer. Quality product and looks great. The installation went very quickly, and I was using this within 4 hours after delivery.
Darrin S. of Arbutus, MD
Mechanical Contracting
---
We have purchased two new ramps from The Yard Ramp Guy within the past two years. From ramp selection to payment to final delivery, they make the process simple and efficient. The delivery dates were honored. The ramps arrived in excellent condition, ready for installation. I would not hesitate to recommend them to anyone looking for a new yard ramp.
Albert S. of Los Altos, CA
Building Materials
---
Working with The Yard Ramp guy was a pleasure. We needed a yard ramp quickly for what we thought was short term. The Yard Ramp Guy supplied a rental ramp quickly. It satisfied our needs, and later we decided to purchase a ramp. The Yard Ramp guy made the purchase simple, and the delivery and pickup were smooth.
Phil M. of Englewood, FL
Shipping Industry
---
I spoke with Jim at The Yard Ramp Guy and decided to roll with the original turnkey plan. The freight company and wrecker services were great. The tow truck operator set the ramp on the dock within 2 inches of center. Thanks again!
Matthew W. of Marietta, GA
Building Materials
---
I was very impressed with The Yard Ramp Guy and its staff. You kept us informed and went the extra mile in getting us these ramps in a timely fashion. Thank you so much.
Brent S. of Cranston, RI
Manufacturing
---
On our end it was very easy. The ramp came as spec'd and was easy to install.
Paul M. of Carlisle, PA
Food Processing
---
Thanks! Everything went well. I appreciate the service!
Brian C. of Indianapolis, IN
Material Handling
---
The entire process was easy and quick. After watching the used market for several weeks, I decided to make the call to The Yard Ramp Guy. After speaking with Mike, I quickly realized that having a ramp built was the most cost effective option. We received our quote on July 7th, and received our ramp on August 17th. Amazing to me the entire process was less than six weeks. I would recommend The Yard Ramp Guy to anyone looking for this type of equipment.
Jeff W. of Colorado Springs, CO
Manufacturing
---
I appreciate you following up with me. I'd like to express how pleased we are with our new ramp. When I contacted you about our situation and what we wanted to try to do, we were running out of options fast. The level of honesty and dedication from The Yard Ramp Guy to resolving our problem was well above our expectations. The entire transaction was smooth and completed without a single problem. Our new ramp has amplified our abilities above what we ever expected. We are glad we found The Yard Ramp Guy and will gladly use them for our any and all future ramp purchases.
Russell M. of Deer Park, TX
Building Materials
---
Your company was so easy to work with. Not pushy at all but remembered us when we finally decided to pull the trigger. We are a small company and sometimes things take a while. Glad we could finally get it done. First load arriving this afternoon!
Chad H. of Fontana, CA
Commercial Printing
---
When the time came to pull the trigger on a yard ramp Jeff beat out any other competition not only on price but on service as well; getting us the ramp very quickly. We are very pleased with our experience with The Yard Ramp Guy and if we ever need another yard ramp Jeff will be our first call.
Scott C. of Toledo, OH
Construction-Industrial Infrastructure
---
The ramp is working great. We have doubled our productivity.
Jared W. of Paragould, AR
Energy-Oil Refining
---
All is well...Thank you for making this happen and will call you on the next one.
Joe F. of Wichita, KS
Manufacturer of Building Materials
---
The Yard Ramp Guy was great from soup to nuts! From the first time I talked with Jeff, I knew he had our best interest in mind. He confirmed the equipment we were discussing was suitable for our situation. It was not just about the sale, but instead about taking care of our needs. He had all the resources to make the purchase seamless. Freight was coordinated without flaw. Jeff and his associates stayed engaged throughout the process. I could not have asked for better service. Thanks Jeff!
John W. of Austin, TX
Residential & Commercial Heating & Cooling
---
A big "Thank you!" to The Yard Ramp Guy for working so diligently to get us our ramp in a very time sensitive manor. He worked with the manufacturer and trucking company to ensure our specified ramp was manufactured and delivered on-time, and at a cost significantly under the competitors price. Thanks Jeff!
Chris H. of Brandywine, MD
Manufacturer of Building Materials