Location, Location, Location
We stand behind our slogan: "We Rent, Sell & Buy New & Used Yard Ramps Throughout the United States."
That's especially apparent in the scope of our Summer Sale on select yard ramps. We selected 10 yard ramps and one cross-dock / transloading platform for the sale.
The map below shows our Summer Sale's yard ramp locations, with a 250-mile radius around each them. These units ⏤ currently located in California, Illinois, Montana, Ohio, Pennsylvania, Texas, and Wyoming ⏤ are within 250 miles of all or parts of 30 States.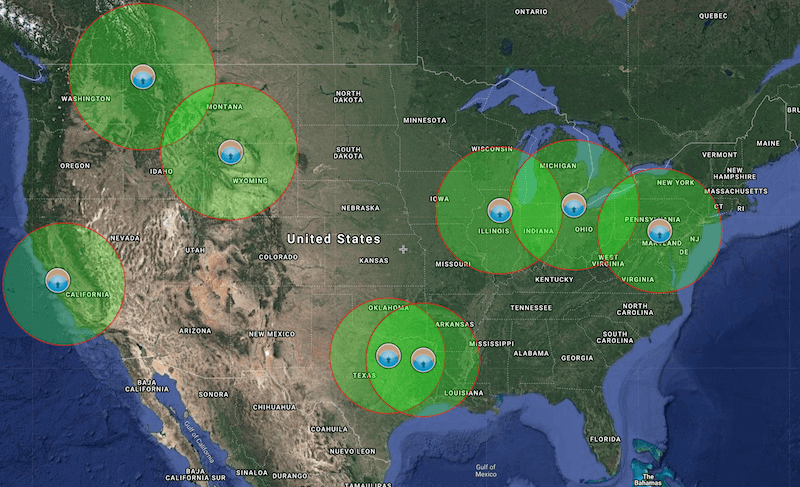 Yes, geography is destiny. Location becomes a key factor in a company's decision to rent or buy industrial yard ramps. Why? Speed and cost. Companies often need or prefer a ramp delivered as soon as possible. Where our unit is located informs a customer's interest. As in, closer usually equals sooner delivery. As for cost, proximity informs the freight charge.
And so we proudly present this particular grouping of used yard ramps for our Summer Sale. We're so enthusiastic about our sale that we've listed these items below, for your convenience.
Naturally, speed and cost don't mean much if the yard ramp doesn't meet your requirements. With that, we have many additional units for rent and for sale. The Yard Ramp Guy: we've got you covered.
Used Yard Ramp Inventory
CLICK

VIEW


for SPECS & PIX
CITY
ST
PRICE
CAP
W
L
ID
Save $2,126!
VIEW

San Jose

CA

$8,999.00


Reg. Price: $11,125

20K lbs

84"

35'

4028
Save $2,497!
VIEW

LaSalle

IL

$9,995.00


Reg. Price: $12,492




20K lbs

84"

36'

3091
Save $5,000!
VIEW

Libby

MT

$20,000.00
Reg. Price: $25,000
MSRP: $50,000

Cross-Dock / Transloading Platform: See Listing for Specs

8049a
Save $1,653!
VIEW

Libby

MT

$6,700.00


MSRP: $8,353

20K lbs

96"

30'

8049b
Save $1,653!
VIEW

Libby

MT

$6,700.00


MSRP: $8,353

20K lbs

96"

30'

8049c
CLICK

VIEW


for SPECS & PIX
CITY
ST
PRICE
CAP
W
L
ID
Save $2,497!
VIEW

Toledo

OH

$9,995.00
Reg. Price: $12,492


20K lbs

84"

36'

3092
Save $1,130!
VIEW

Carlisle

PA

$9,995.00
Reg. Price: $11,125


20K lbs

84"

35'

3077
Save $1,345!
VIEW

Carlisle

PA

$9,995.00
Reg. Price: $11,340


20K lbs

84"

36'

3095
Save $1,000!
VIEW

Fort Worth

TX

$18,500.00
Reg Price:: $19,500


16K lbs

96"

38'

2090
Save $1,805!
VIEW

Longview

TX

$9,995.00
Reg. Price: $11,800

20K lbs

84"

36'

3096
Save $1,755!
VIEW

Cody

WY

$9,995.00


Reg. Price: $11,750

20K lbs

84"

35'

3094