Should You Buy a New or Used Yard Ramp...or Rent:
Frequently Asked Questions
Whether you're renting, buying, or selling a mobile yard ramp or a stationary dock ramp . . . The Yard Ramp Guy Team prides itself on clarity with each and every one of our customers, potential customers, and vendors. Here are some of our most frequently asked questions, answered:
USED
What is my risk when buying a used yard ramp?
All used yard ramps are sold "as is" — no different than used cars, boats, or other major purchases. Your risk is that an unforeseen defect exists that requires repair. Because we take a conservative approach to the purchase of used yard ramps for sale or rental, we believe we have limited the risk of a poor purchase by our customers very significantly.
I found a used yard ramp. Can I get a finder's fee for referring The Yard Ramp Guy with the seller?
ABSOLUTELY! If you refer us to a used yard ramp seller and we consummate a deal for their ramp, we will gladly send you a check for $222.00 with our thanks for contributing to our success.
I found a used yard ramp on my own but have no idea if it is worth what the seller is asking. Can you help?
Of course we can help! While we wish we could be "the guy" for every used yard ramp bought and sold, we know that is not possible. But we would be happy to evaluate any ramp presented to us and give you our honest opinion as to its value.
I expected a used ramp to be at least half the price of a new ramp. Why do the prices seem high?
As you probably know from your own research, used yard ramps are difficult to find. Good used yard ramps are even more difficult to find. The pricing you see is the retail value of the unit. It is important, when shopping for a yard ramp, to never forget the bottom line. We urge you to consider the cost of the ramp plus freight. It is not unusual for a used ramp to cost more than a new ramp if you happen to be close to one of the few reputable yard ramp manufacturers or distribution centers. Still, with many years of use remaining on the used yard ramps you see on The Yard Ramp Guy's site, the value can be outstanding.
Do you have additional used ramps not shown on The Yard Ramp Guy's site?
Quite probably. We try to keep the map updated daily. But we may have potential used ramp opportunities where we are still waiting for photos from the Seller, still working out the pricing or, perhaps, having some work done on the condition of the ramp. We encourage shoppers to call us or Request a Quote.
Could not find the answer to your question?
Please use the Request a Quote form.
Or call us at 888.977.4224.
SELL
Will I get a firm offer?
If your ramp meets our standards and there is a reasonable demand for such a ramp in your region, we will be thrilled to discuss the pricing strategy and three ways in which we might choose to work together. In the context of that conversation, we will discuss a firm offer. However, many ramps presented are no longer safe and therefore we will candidly present you with options to consider for the future of your ramp.
Can I post my ramp on your site to sell it myself?
Yes! This is our "For-Sale-by-Owner" option and we charge a one-time fee of 7% of the Asking Price you have determined you want posted for the ramp. Your posting will appear in the same format as every other ramp you see on The Yard Ramp Guy's site. Your contact name and number (or email) will be included in your posting. Your ramp will now have broad regional and national exposure rather than the limited exposure of other sites like CraigsList. Your ramp will remain posted until such time you notify us to mark it "sold" or "no longer available."
How does the For-Sale-by-Owner arrangement work?
You determine the Asking Price.
The Yard Ramp Guy invoices you for 7% of the Asking Price as a Posting Fee.
Our Posting Fee Terms: Payment in full due to The Yard Ramp Guy prior to ramp posting on websites.
Your contact information will be included within the posting.
You field all inquiries, issue all quotes, and handle transaction details.
The Yard Ramp Guy will leave the posting active until you notify us to convert it to "Sold" status.
Upon notification of sale, The Yard Ramp Guy reserves the right to continue the posting so long as all references to Seller, including name, phone number and email are removed. Unit will be marked as "Sold."
How does the Ramp Broker arrangement work?
Seller and The Yard Ramp Guy agree upon an Asking Price.
The Yard Ramp Guy posts the ramp for sale under "Used Yard Ramps" at no cost to Seller.>
All inquiries, quotes, price negotiations and transaction details are handled by The Yard Ramp Guy.
Seller understands The Yard Ramp Guy is acting in the mutual benefit of Seller and The Yard Ramp Guy.
Seller agrees to a Handshake arrangement with The Yard Ramp Guy. If a buyer comes along that The Yard Ramp Guy had no part in pursuing ⏤ and Seller works out a deal that is better for them ⏤ we only ask that you let us know the ramp is no longer available. (Our parents and grandparents got to do handshake deals all the time. When was the last time you got to do it? I love this part of my business!)
Consummation of Sale:
Buyer is required to pay The Yard Ramp Guy in full prior to shipment.
Upon receipt of payment from Buyer, The Yard Ramp Guy will direct deposit payment to Seller for their 70% share of the final sale price. If there were seller-related expenses paid out by The Yard Ramp Guy, such expenses will be deducted from Seller's share. Seller will be aware of any reductions in advance of receiving payment from The Yard Ramp Guy./li>
What determines the value of my ramp?
The specifications, condition, and age of the ramp—along with the demand for such a ramp—are the criteria we use to determine the market value of your ramp.
How do I sell a ramp?
Our Sell Your Ramp form provides for all the information we need you to share with us when selling your ramp. Please provide complete information; we do require at least a few attached digital photographs so we may make an appraisal. We will generally respond within 24 hours. We will call you promptly in the event more information or clarification is required. When we call, we will discuss the three ways in which we might choose to work together. They are by having The Yard Ramp Guy act as your "Ramp Buyer," your "Ramp Broker" or by posting your ramp to The Yard Ramp Guy's website as a "For-Sale-by-Owner" ramp.
RENT
If my Rental Agreement is for two months, but I need it longer, what do I do?
Contact us at 888-977-4224. We will extend your Rental Agreement and simply email you an invoice for the extension at the same rate as shown on your Rental Agreement. Rest assured, we will not pull your ramp for use by another customer until you are finished with its use.
Am I permitted to pick up and return the ramp myself or through my preferred carrier?
Yes. However, we will need details of the move and your carrier and reserve the right to refuse approval.
Who is responsible for repairs?
Contact us at 888-977-4224. We will arrange for a service call and repair at no charge, providing the cause of the repair and maintenance is not misused per our Terms and Conditions. Please note that repairs are rare and maintenance is required quite infrequently. In most situations, customers generally have competent, mechanically inclined employees who are more than capable of handling the necessary repairs/maintenance.
When will my ramp arrive?
While sales has much to do with price, renting a ramp is all about availability. Setting up ramp delivery takes place only after receipt of your signed agreement and prepayment. Submitting your Rental Agreement and payment early helps to assure delivery in a timely manner.
How do I rent a ramp?
Request a Quote to get the process started. Please provide as much detail as you can to assure a more rapid quotation. We will call you promptly in the event more information or clarification is required. For more information go to:
NEW
How does The Yard Ramp Guy sell new ramps for less than the factory?

Manufacturers often sell direct to end-users but honor the 800+ dealers around the country by committing to not going below the standard dealer's retail price point. As far as pricing goes, we are competing against other dealers or the factory selling at dealer pricing. We have no bricks and mortar. Our overhead is very limited. Our web presence funnels all the leads we could hope for, so our marketing budget is lean. Rather than pricing along with other dealers and pocketing the additional profits, we pass the overhead savings on to our customers to win their business.
Why does The Yard Ramp Guy feature only three yard ramp manufacturers?

The three manufacturers featured—Bluff Manufacturing of Ft. Worth, Texas; Mid-State Ramps of Denton, North Carolina; and Quality Material Handling of Rancho Cucamonga, California—make outstanding quality products and are the leading makers of yard ramps. There are a few other manufacturers making quality products but not, in our opinion, with the same commitment to the vertical product line. They also sell at price points beyond our business model. We would have no hesitation to re-sell one of their ramps as used. However, for most of our customers' applications, they do not match our goal for being the most reliable and lowest priced yard ramp dealer in the country.
GENERAL
Where do I find lifting straps for my forklift to off-load or load a yard ramp?
When off-loading a side-loaded ramp with one or two forklifts, the forklift driver will use a Lifting Sling with loops for the fork tine to slip through and lift. We refer customers to Lifting Equipment Store. They can be reached at 713.489.5335.
Part #: EE29444FT
Description: 2 Ply Lifting Sling – 11K-lb Vertical Capacity – 4″ x 4′
Price: $28.32 each, plus shipping (as of July 2021)
With a ground-to-dock forklift ramp, how do you keep the unit from moving or slipping?
There are three primary techniques we like for securing a stationary ramp to a dock. Please note, the idea is to simply secure the ramp in such a way so it will not shimmy or vibrate off the dock when in use.
Spot-Weld – If your ramp makes enough direct contact with a steel plate capping your dock, we encourage spot-welding and are happy to secure the services of a local mobile spot-welder as part of our Turnkey Installation Service.
Anchor Bolt – Our new ramps include factory-drilled anchor bolt holes in anchor tabs attached to the top and bottom of each side rail. We are happy to secure the services of a local handyman to install anchor bolts as part of our Turnkey Installation Service.
Anchor Brackets/Chains – Customers may purchase Dock Mounting Kits including heavy-duty brackets and chains. The brackets are anchor bolted to the face of the dock and the ramp's safety chains are pulled tight to hold the ramp firmly against the dock ledge. We are happy to secure the services of a local handyman to install anchor brackets as part of our Turnkey Installation Service.
How does a 30' ramp with a 6' level off differ from the 36' in terms of limitations?
A 36' long ramp usually has 30' of incline and 6' of level-off. Level-off is essential so that fork tines are parallel with the ground when working the back-end of the truck, container or rail car exceptionally well. A 30' ramp is usually used in a ground-to-dock applications. The dock serves as the level-off. Dock heights vary but a generally about 48" high. The Yard Ramp Guy requires our customers to fill out our Ground-to-Dock Worksheet and provide corresponding photos prior to ordering a ground-to-dock ramp. We get about 12-18 calls each year from people  who bought the wrong ramp from another dealer. We help them sell the wrong brand new ramp and then assure the second ramp matches their dock.

TURNKEY SERVICES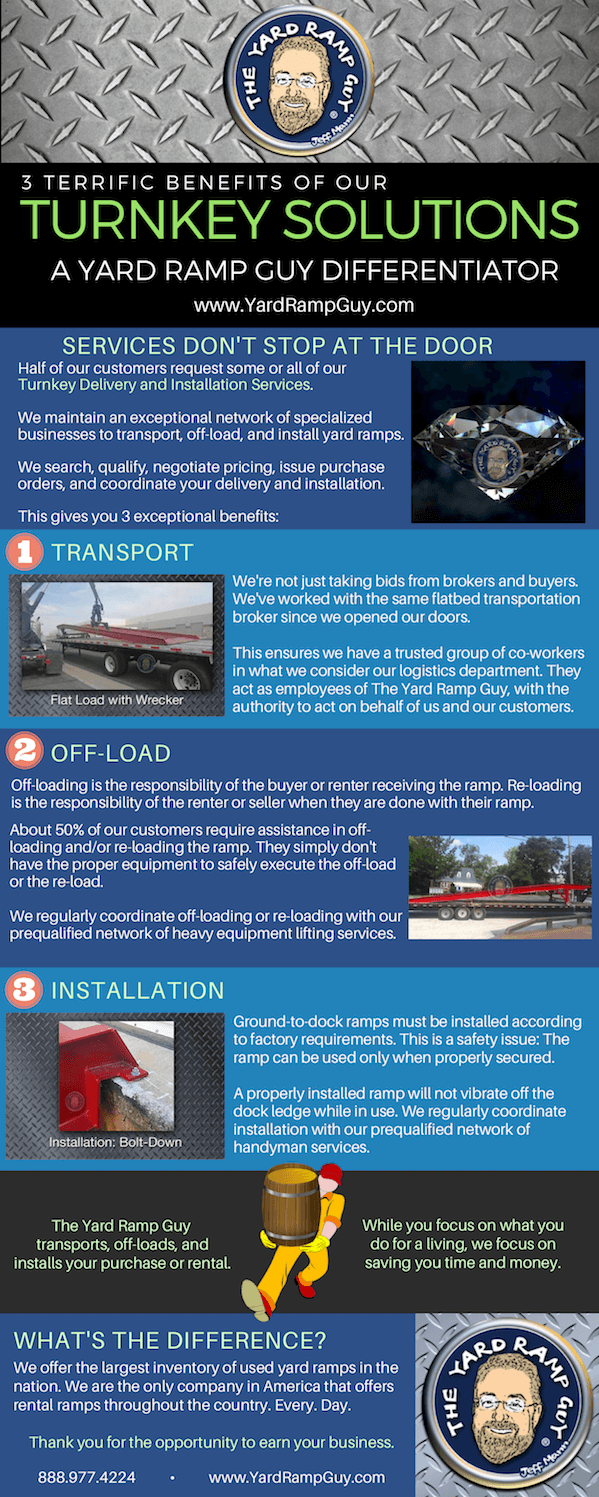 Infographics: Buying Used, Renting, Selling, Turnkey Services
Click the thumbnails to expand your view.