In a Hurry? Take Advantage of Select Inventory Available for Immediate Purchase and Delivery
Save up to 16%. The Yard Ramp Guy's new in-stock program provides lower ramp prices and reduced freight costs for deliveries near you from our inventory depots in LaSalle, IL; St. Clairsville & Toledo, OH; and DFW Metro & Houston, TX.
New Forklift Ramps & Mobile Yard Ramps Near You
Central United States
Mobile Hydraulic Yard Ramps • For Purchase or Rental
SPECIFICATIONS

SPECIAL PRICE
$13,795.00
MSRP: $16,450.00
Standard Dealer: $15,422.50
MODEL #
20SYS8436L-YAR
LOCATIONS
LaSalle, IL
St. Clairsville, OH
Toledo, OH
DFW Metro, TX
Houston, TX
AVAILABILITY
Continuous yet limited stock levels.
Call to confirm/reserve for purchase or rental.
BUILD DATE
Through 2022 by Bluff Manufacturing
CONDITION (see below)
New!
CONSTRUCTION
All-Steel
CAPACITY
20,000 lbs
WIDTH
84" (78" Usable Deck)
LENGTH-TOTAL
36' (30' Incline; 6' Level-Off)
CURB HEIGHT
8"
SERVICE RANGE
33" - 67"
LEVELING MECHANISM
Double-Acting Hydraulic Pump
TIRES
Solid Rubber Pneumatic Profile Tires 18"
SAFETY CHAINS
Included
MOBILITY TOOL
Ramp Clamp Included
WEIGHT
Approx. 6,149
SPECIAL NOTES:
Freight not included.

Price is subject to change.

Stock levels may vary - ramps sold/rented on 1st come/1st served basis.
RAMP CONDITION:
NEWLIKE NEWEXCELLENTVERY GOODGOOD
Direct from the factory or parked at one of our depots, this ramp is no more than six months old. It includes safety chains and a mobility device (if applicable). There are no blemishes other than limited oxidation from normal exposure. Hand-cranks or hydraulic systems are new and function as such.
The same as "New" but it left the factory more than six months ago (and/or has been parked inside and shows little aging). It includes safety chains and mobility device (if applicable). There are no blemishes other than limited oxidation from normal exposure. Hand-cranks or hydraulic systems are also like new and function as such.
The same as "Like New" but this ramp has been parked outside and has normal oxidation. In every other way it's terrific.
The same as "Excellent" but this ramp is probably 4-15 years old. It shows reasonable wear and tear. Hand cranks or hydraulic pumps may require general maintenance but no major repairs. Its mobility device (if applicable) and safety chains are included.
The same as "Very Good" but this ramp shows its age and use like a grizzled warrior. Buyer may need to purchase or fabricate a missing mobility device or set of safety chains. General maintenance to hydraulics would be highly recommended (really, for any used ramp to establish a maintenance baseline before using). Some repairs may be in order: dried out gaskets or hoses, a bent section of deck or apron, a few spot welds. Though a little long in the tooth and not the prettiest, it is structurally sound and will provide a reasonable number of additional years of service.
NOTES:
PHOTOSPRICEWARRANTYINSPECTIONRESERVETRANSIT
Photos shown are usually of actual ramp.
We attempt to post photos highlighting the most recent known current condition of each ramp. Where we do not yet have photos on the condition of a ramp, or if the ramp is considered Like New, we post factory stock photos.
Sale Prices are subject to change. Freight is not included in posted pricing. Freight will be quoted in writing.
All transactions require customer's signature on a written Sales Quote from The Yard Ramp Guy.
Renters can expect all mobility and leveling accessory parts to be included with their rentals. Responsibility for maintenance and repairs of RENTAL RAMPS is noted within the Terms & Conditions of the Rental Agreement.
Buyers and renters are welcomed to inspect the ramp prior to signing Sales Quote or Rental Agreement. Upon request, The Yard Ramp Guy will arrange site visits.
Ramps are committed on a 1st come/1st served basis. Reservation of ramp is guaranteed with signed Sales Quote or Rental Agreement AND payment. All used or rental ramps are subject to prior sale.
Allow 1-3 days for dedicated flatbed. Add 3-5 days for partial load flatbed. Transit time varies dependent upon freight lane, miles, national holidays, traffic conditions, and weather. The Yard Ramp Guy is not liable for any loss of business due to a ramp arriving after the expected date and/or time.
A Note on Steel Pricing
Due to recent volatility in the steel industry, our factories are passing through to us a "steel surcharge" on new yard ramps. We, in turn, will pass through this charge to our customers without markup.
As with prior spikes in steel pricing, we believe this is a temporary condition. Economists are predicting steel demand to significantly outpace supply through the end of 2021.
Fortunately for our customers, The Yard Ramp Guy's status as the #1 dealer for each of the three factories we represent means the factor used to calculate our steel surcharge is considerably more favorable than that of our competitors.
We will continue to sell yard ramps at pricing lower than our competitors and lower than our factories will sell directly to end users.
Thank you for your understanding as we all navigate these continued strange times. 
Click to enlarge your view of favorable shipping coverage in the Central U.S.
Call for additional ramp availability:
For Immediate Delivery - Purchase or Rental
SAVE $$$ ON RAMP COST


The Yard Ramp Guy's prices are among the lowest in the nation.

FAST DELIVERY


Place your order Monday. Pay us Tuesday. Receive your ramp as early as Wednesday.

SAVE $$$ ON FREIGHT


Shipping locations MUCH closer to you.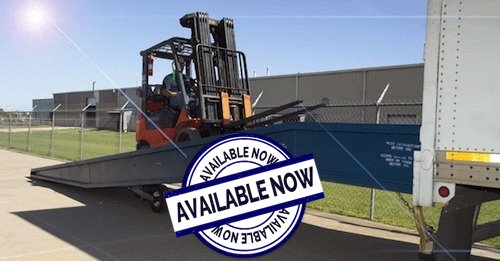 A Yard Ramp Guy® Exclusive:
What does "YAR" mean in your item #?
This mobile ramp model from The Yard Ramp Guy exclusively includes these extra features, at no additional charge:
Our "Never Lose It!" Tethered Ramp Clamp
Our "Never Lose It!" Tethered Pump Handle
Recessed Curbs for better fit at dock ledge
Convenient Safety Chain Storage Hooks on side rails
Improved User Instructions displayed on side rails
Pre-drilled Mounting Anchor Holes
Three Dock Install Methods: mounting bracket, anchor bolts, or spot weld (dock install is optional)
Turnkey Delivery & Installation
A terrific value-added option: With our Turnkey Delivery and Installation Services, we're able to transport, off-load, and install your loading dock. We literally do the heavy lifting for your Off-Load and Dock Installation needs. 
While you focus on what you do for a living, we focus on saving you time and money.
---
Phone us at 888.977.4224 to discuss your needs.
We thank you for the opportunity to earn your business.