Ho Ho Ho
'Twas a year in the nation, and despite our brains and our brawn
this Thing kept surging, especially the Delta and Omicron.
The children were nestled in their beds, another day curbed,
so that we could watch the TV without being disturbed.
We sat on the couch for movies and more
just for a break from our minding the store.
Mask up, said Dr. Fauci to the people of Chicago and El Paso;
We said: Change the channel, Hon, and let's watch Ted Lasso.
We drifted to sleep, hoping to dream of gifts of candy cane
And ended up dreaming about the wonders of the inclined plane.
What's this? we wondered in shock and in awe:
This dream is glitched. It must surely be a flaw.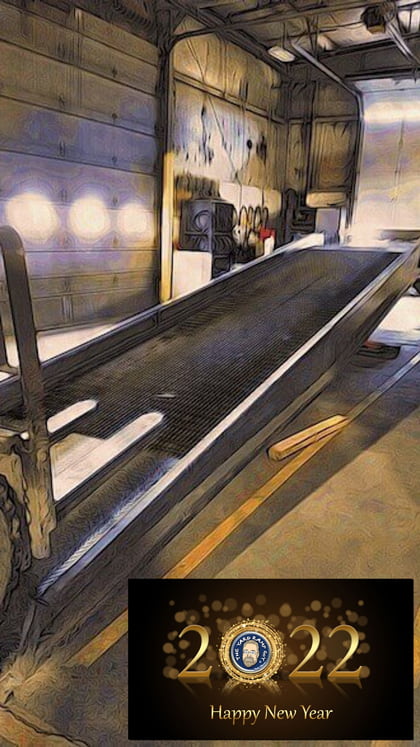 But the dream continued, there could be no mistake.
We were dreaming of mobile yard ramps, for pete's sake.
Now, there are two ways to deal with such a thing unusual:
Approach it as problem to fix or a window to renewal.
And so we gave in and let them take over:
yard ramps as good-luck charm and four-leaf clover.
Odd thing here. It started not with steel and clamps and tires
but with the Yard Ramp Guy sales consultant Mike Myers.
He said, "We have quality ramps in most any configuration
for rent and for sale across this great nation.
Need a stationary unit, welded to dock, to stay in formation?
I'll connect you to Jim Kunze, for sales coordination."
In our dream, Jim appeared as a voice in our ear
and told us for delivery and setup we have nothing to fear.
"We can handle freight and offload and dock installation.
And no it's not free but reasonable, for your information."
"Wake up! Wake up!" another voice urged with a scream.
"The rules say I cannot invoice you in a dream.
So, wake up and go to the phone, a cup of coffee do not even fix,
and dial 888.977.4224, then extension number 6."
We leapt from the bed and went for the phone, deciding to buy.
Dialed...and heard the voice of Jeff Mann, Yard Ramp Guy.
We liked the way he made his business seem human and trusting
Especially for six tons of steel that would eventually be rusting.
What impressed: his humor, his smarts? We couldn't decide which,
though we gotta say that he had one heck of an elevator pitch.
The one part of Jeff's business we ended up liking the most
was its truth in advertising — renting, selling, and buying from coast to coast.
We bought a ramp — transaction seamless, delivery smooth.
And Jeff was right: it put our business into a better groove.
We heartily endorse dealing with The Yard Ramp Guy and cohorts.
Happy New Year. Here's to turning the page to a world of better sorts.