The only thing better than hiring Mike is hiring Mike twice!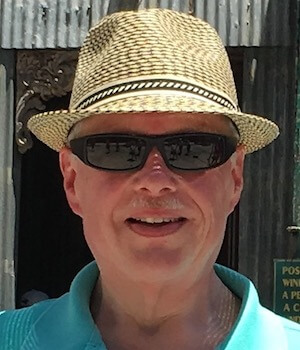 When you're on a first phone call with Michael Myers, you either resist the temptation to wonder aloud if he's the scary dude from the "Halloween" movies…or you don't resist and just ask him.
It's okay. This Michael Myers, our sales consultant extraordinaire, has heard it before. (There's speculation that one of the secrets to Mike's superb sales record is from customer relief that he's not the scary dude from "Halloween.")
The Yard Ramp Guy's Mike Myers is not terrifying. He's terrific.
Born in small-town Pennsylvania, he grew up learning about his father's commercial and residential water well drilling business. Mike's first job: founder and president (we like people who start at the top) of a radon measurement laboratory.
There's a direct line from water well drilling to radon testing. Radon is one of the noble gasses. Among other places, it's present in the ground and in buildings. Colorless and odorless, radon is quite dangerous if not detected. Through this work, Mike learned the value of precision and accuracy.
Eventually, he founded a mail and parcel center that focused on global logistics, shipping, and packing. From this, he learned the value of patience, persistence, and customer service.
Mike's work segued smoothly into the world of industrial material handling and custom accessibility ramps. That's where he met Jeff Mann, who soon became The Yard Ramp Guy and brought on Mike as a sales consultant.
Says Mike: "The thing about Jeff is that he's able to look at a particular product and market and develop an aggressive, holistic marketing and sales strategy."
With that strategy and excellent representation such as Mike provides, The Yard Ramp Guy has become a major purveyor of new, used and rental yard ramps.
Mike thrives in the challenge of a custom ramp system. "I do that with every customer," he says. "The key is knowing exact requirements and developing a solution. And that's the most rewarding aspect, knowing that our specs have most closely matched the customer's needs."
"I've had the good fortune of hiring Mike twice in my career," says Jeff Mann, "once when I was a sales manager and again with my own business. His contributions go far beyond sales. He is a consummate sales professional. He's a true collaborator in the success of the business."
Jeff notes that Mike possesses many of the characteristics he values most in that he is trustworthy, loyal, helpful, friendly, and courteous. He also enjoys Mike's willingness to challenge him intellectually, which has led to excellent business strategies for The Yard Ramp Guy.
At the beginning and at the end of the day, The Yard Ramp Guy is proud to have Michael Myers on board as a valuable, integral asset.
___________
Quotable
Yes, McCoy Fields . . .our alphabetical quote-off Hops toward the center:
Happiness can be found, even in the darkest of times, if one only remembers to turn on the light.
Albus Dumbledore