Memo From Mann: Your Well-Placed Yard Ramp Inventory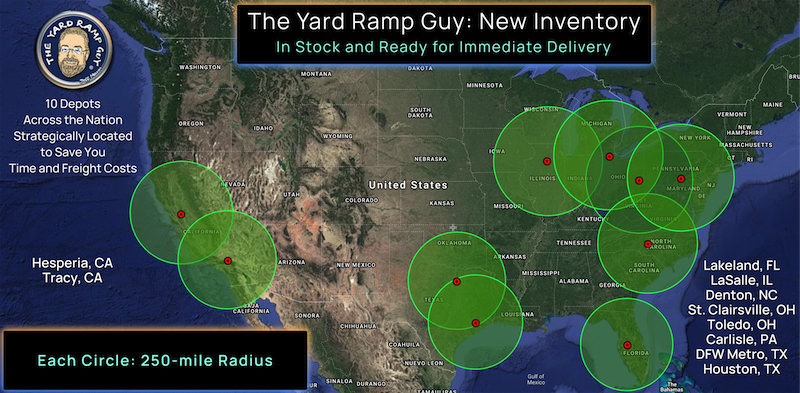 As we've strengthened our business model over the years, we've improved on our ability to get your yard ramps into service faster.
The map above shows our ten depots that carry in-stock inventory, available for immediate delivery. Those green circles reflect a 250-mile radius from each depot. By our tally, right now our new yard ramp inventory covers all or part of 22 states. We write "right now" because we're always adjusting strategy, hoping to reach more and more circles of businesses across the nation.
Our pricing is always competitive, and most often the best in the industry: we remain well below both Standard Dealer pricing and MSRP on these new portable loading docks.
Beyond that, we also handle the heavy lifting through our Turnkey Delivery & Installation Services, in which we manage the off-loading, positioning, and/or bolting of your yard ramp.
And then it gets better:
Every blue flag above marks the current location of our existing inventory of used portable loading docks or stationary dock ramps. We write "current" because we update our used and rental inventory often. Not a week goes by that we don't make a change on our website ⏤ sometimes those changes are daily ⏤ to reflect a new location, a new addition, and/or a sale, which pulls the listing from circulation. (It keeps our web guy off the streets and out of trouble.)
The cumulative effect? A fluid yet consistently well-distributed inventory.
Especially in these strange and uncertain days, with the supply chain in such flux, The Yard Ramp Guy is exceptionally proud of our geographic reach.

Jeff Mann
Founder and President
This week, our man McCoy Fields waxes, poetic and mathematic, on ramps.
Click HERE to angle into the conversation.