CrossFit & The Yard Ramp Guy: A Good Fit
We just completed our third set of business for the CrossFit Games, which puts on intense, highly competitive sporting competitions around the country (and worldwide) in a number of disciplines and events.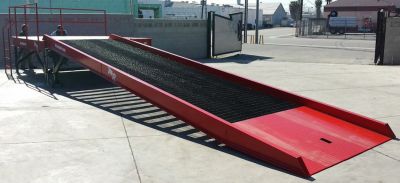 The Games were held at the StubHub Centre in Carson, CA. CrossFit hires a company, Rogue Fitness, to manage the event operations. Rogue supplies equipment for the Games (and I mean: a lot of equipment) and needs logistics support getting it to the site and back again. And that's where The Yard Ramp Guy comes in. 
For the most recent coordination of the CrossFit Games, we rented Rogue a ramp from our nearest depot in Anaheim, CA. (Keep in mind: L.A. suffers from very high freight cost, due to heavy traffic.) 
Doing the numbers: Delivery freight was $745; return freight was $745. The rental fee was $1,200. The total Rental Agreement was $2,690 contract. Rogue had more than 30 vehicles (18-wheelers) to be offloaded for the the setups and reloaded at the end of the event. 
For each of the CrossFit Games events, Rogue Fitness needs to load and unload a million pounds of equipment in four days, with four days of downtime during the event itself. 
"I've done the CrossFit games since the beginning," says Kenny Castro, Rig Foreman at Rogue. "The operation used to be volunteer-based, with two semis. Back then, we used old-school chain straps and pallet jacks, and an off-load took two-and-a-half hours. Imagine trying to pull a 15-foot pallet jack with a chain. That's not the safest way. 
"When we started last year with The Yard Ramp Guy, we reduced that off-load time to half an hour. Now we can load a truck in under 40 minutes. Jeff Mann's team has always been on time. Calls, tells us it's a half hour out. I've never really had to wait. These days, I'm able to finish more than three hours earlier. The Yard Ramp Guy team is pretty amazing."
We're very proud of top-quality customer service with our clients. Their great feedback is gratifying and appreciated. The Yard Ramp Guy is ready to exceed your expectations.
---