What Others Say About Working with The Yard Ramp Guy
"Repetition makes reputation and reputation makes customers."
— Elizabeth Arden
The Yard Ramp Guy takes pride in the generous comments we receive from customers, sellers, vendors, and even our friendly competitors.

Please take a moment to find someone similar to you.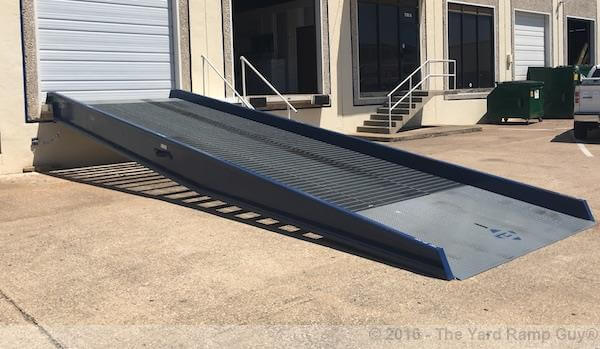 ---
---
The Yard Ramp Guy Difference
We are proud to be the leading yard ramp rental supplier in the United States. As a testament to our success, other (much larger) companies followed our lead soon after we launched the service in 2011. Here's what makes us different in providing temporary loading dock ramp solutions:
Real Inventory. Our rental listings are all REAL. Other companies direct you to "Call for a Quote." This is because they do not actually maintain a real fleet of ramps available to rent, typically resulting in a sales pitch to buy a new ramp.
Largest Inventory: Strategically Located Across the U.S. Most of our inventory is located within 250 miles of 90% of the population. That's important for speeding up delivery and cutting your freight costs.
Streamlined Shipping & Delivery. Shipping 30'-long ramps that weigh up to 10 tons can present logistical challenges. Over the years, we've perfected a system for efficient delivery, developing close working relationships with a network of flatbed truckers and wreckers.
---
Latest Reviews From Our . . .
Buyers of New Yard Ramps
Buyers of Used Yard Ramps
Renters
Business Associates
Sellers
I feel inclined (pun intended). You have not only "earned" our business, but you have it for life as far as I am concerned. I have had very few vendors work through a manufacturer's major mess-up as quickly as you did, not only once but twice on the same order. The Yard Ramp Guy (that is you) has outstanding service!
Cheri C. of Seattle, WA
Entertainment
---
The *new ramp looks great. Everything went well.
Glen A. of Newport Beach, CA
Real Estate Development
* NOTE: Proudly. . .this is one of our many repeat customers, who bought new yard ramps from us in 2017 and 2018.
---
We have purchased two new ramps from The Yard Ramp Guy within the past two years. From ramp selection to payment to final delivery, they make the process simple and efficient. The delivery dates were honored. The ramps arrived in excellent condition, ready for installation. I would not hesitate to recommend them to anyone looking for a new yard ramp.
Albert S. of Los Altos, CA
Building Materials
---
I spoke with Jim at The Yard Ramp Guy and decided to roll with the original turnkey plan. The freight company and wrecker services were great. The tow truck operator set the ramp on the dock within 2 inches of center. Thanks again!
Matthew W. of Marietta, GA
Building Materials
---
I was very impressed with The Yard Ramp Guy and its staff. You kept us informed and went the extra mile in getting us these ramps in a timely fashion. Thank you so much.
Brent S. of Cranston, RI
Manufacturing
---
On our end it was very easy. The ramp came as spec'd and was easy to install.
Paul M. of Carlisle, PA
Food Processing
---
Thanks! Everything went well. I appreciate the service!
Brian C. of Indianapolis, IN
Material Handling
---
The entire process was easy and quick. After watching the used market for several weeks, I decided to make the call to The Yard Ramp Guy. After speaking with Mike, I quickly realized that having a ramp built was the most cost effective option. We received our quote on July 7th, and received our ramp on August 17th. Amazing to me the entire process was less than six weeks. I would recommend The Yard Ramp Guy to anyone looking for this type of equipment.
Jeff W. of Colorado Springs, CO
Manufacturing
---
I appreciate you following up with me. I'd like to express how pleased we are with our new ramp. When I contacted you about our situation and what we wanted to try to do, we were running out of options fast. The level of honesty and dedication from The Yard Ramp Guy to resolving our problem was well above our expectations. The entire transaction was smooth and completed without a single problem. Our new ramp has amplified our abilities above what we ever expected. We are glad we found The Yard Ramp Guy and will gladly use them for our any and all future ramp purchases.
Russell M. of Deer Park, TX
Building Materials
---
Your company was so easy to work with. Not pushy at all but remembered us when we finally decided to pull the trigger. We are a small company and sometimes things take a while. Glad we could finally get it done. First load arriving this afternoon!
Chad H. of Fontana, CA
Commercial Printing
---
When the time came to pull the trigger on a yard ramp Jeff beat out any other competition not only on price but on service as well; getting us the ramp very quickly. We are very pleased with our experience with The Yard Ramp Guy and if we ever need another yard ramp Jeff will be our first call.
Scott C. of Toledo, OH
Construction-Industrial Infrastructure
---
The ramp is working great, we have doubled our productivity.
Jared W. of Paragould, AR
Energy-Oil Refining
---
All is well.....Thank you for making this happen and will call you on the next one.
Joe F. of Wichita, KS
Manufacturer of Building Materials
---
The Yard Ramp Guy was great from soup to nuts! From the first time I talked with Jeff, I knew he had our best interest in mind. He confirmed the equipment we were discussing was suitable for our situation. It was not just about the sale, but instead about taking care of our needs. He had all the resources to make the purchase seamless. Freight was coordinated without flaw. Jeff and his associates stayed engaged throughout the process. I could not have asked for better service. Thanks Jeff!
John W. of Austin, TX
Residential & Commercial Heating & Cooling
---
A big "Thank you!" to The Yard Ramp Guy for working so diligently to get us our ramp in a very time sensitive manor. He worked with the manufacturer and trucking company to ensure our specified ramp was manufactured and delivered on-time, and at a cost significantly under the competitors price. Thanks Jeff!
Chris H. of Brandywine, MD
Manufacturer of Building Materials
---
The ramp and platform are beautiful and high quality. I could not have been more pleased. The Medlin team was top of the line.
Steve F. of Long Beach, CA
Recycling of Clothing
---
Yes everything is going great, perfect timing on this deal! [The wrecker service you found for us] did a great job, fast and friendly. Will let you know when I need anything else in the future, thanks for all the help!
Stratton W. of Houston, TX
Recycling of Waste Products
---
Off load went great and we got it in place. Thank you again for your wonderful service.
J.R. Mc. of Lansing, MI
Manufacturer of Building Products
---
Everything is great. We love the ramp and it is working out fine. Thanks for your prompt service. I look forward to doing business with you again some day.
Kenny A. of Monroe, LA
Farming
---
Great Driver, Great Logistics, Thank You.
Paul B. of Bryan, TX
Agri-Business-Winery
---
Thank you. Your attention-to-detail and follow through are refreshing.
Mark L. of Long Beach, CA
Distribution/Shipping
---
We are very pleased with the ramp and the whole process was painless. Thank you so much for all your attention to detail. I will recommend you to our corporate regulatory department so that if anyone else has the need for a ramp they can call you directly. Thanks again for being the "best yard ramp guy" EVER!
Mary C. of Tampa, FL
Manufacturer of Chemicals
---
Hello Jeff, just letting you know we received our ramp today as planned. Just like to thank you for your help and understanding and will be glad to reference your company in the future if needed.
Troy D. of Newberg, OR
Manufacturer of Fiber Optics
---
We are very happy with the ramp! It delivered on time and installed easily. I'm sure the money we spent on this ramp will give us much more in return. If I were telling anyone about this ramp, I'll tell them I got the best price and best service in town.
Dennis D. of Commerce, CA
Energy-Mining
---
Thanks, Jeff! You are one detail-oriented guy. I think you have done this a time or two before. Cori (NATCO Transportation) already called this morning and all things are good to go. I love when I have the confidence in a job that you instill.
Paul B. of Kent, WA
Chemical Manufacturer
---
It has been a pleasure dealing with you, Mike and the folks at Medlin. Many thanks for all your help and for the great service. We love the ramp!
Bert S. of San Francisco, CA
Property Management
---
The ramp was on the ground at about 8:30 p.m. last night. Thanks for sending the boom to unload. The driver of the tow truck was able to tell our tenant how to work the hydraulics and install the fork lift attachment. The instruction booklet was very helpful. The ramp looks good and our tenant really needs it. I am glad we were able to co-ordinate such a quick turnaround.
Claire B. of Austin, TX
Property Management
---
Yes everything went very well and I sincerely appreciate the extra effort you applied to set up the off load of our ramp. It saved us a lot of money. The ramp is perfect and is doing exactly what we wanted it to do. I could use your help with one more item. I need another pair of the anchor plates. I need one set on each building that we move the ramp to. Do you have more of these or can you get them easily? (Editor's Note: Our reply was "of course!" and the client's anchor plates arrived a few days later.)
Dave K. of Carlstadt, NJ
Visual Graphic Systems
---
The Ramp is working great, and I appreciate how quickly you were able to produce and ship it.
David L. of South El Monte, CA
Manufacturing
The experience working with The Yard Ramp Guy was outstanding. Having done this for some time now all across the country, it was a huge relief when this process went as smoothly as it did. I credit your staff with outstanding communications. That is what I valued the most throughout the process. Every email and call was answered immediately, and you all took the time to assist us with every aspect—from purchase all the way to offloading. Continued support when I had questions or concerns were handled right away and with much respect.

Kudos to you and your team on conducting yourselves and your business this way. If the opportunity ever presents itself again, I will definitely be calling you all. I will refer anyone I can to you all, as well.
Brandon K. of Kansas City, KS
Distribution/Shipping
---
Love it!! Tanks a ton.
Steve H. of Guadalupe, CA
Manufacturing
---
It was a pleasure working with The Yard Ramp Guy. Everyone I spoke with helped me achieve the end result, which was getting a ramp installed in a timely manner. I've already referred your company to the property manager in the complex where I'm renting space. She liked the ramp and had a tenant looking for something similar, so she should be giving you a call. I will be calling you when this job is finished to talk about the Cash Back Program you mentioned for selling the ramp.
John S. of Orlando, FL
Material Handling
---
The ramp was delivered and is working out well. Thank you for your outstanding customer service.
Keith B. of Sharonville, OH
Manufacturer of Roofing Materials
---
The ramp looks good, and everything is exactly as promised. Pleased working with you as well.
John C. of Sidon, MS
Agri-Business-Grain Products
---
The ramp came as described before the expected ship date. Your communication was clear and thorough and your prices were the best. Thank you!
Steve S. of St. Petersburg, FL
Recycling of Waste
---
Ramp delivered and is up and running. Thanks for all your help. Service has been very good and everything was as communicated.
Arie O. of Chattanooga, TN
Logistics
---
The ramp was delivered in perfect shape, exactly what we were looking for. Being I was there for the delivery, it was very helpful that the driver showed up at the time they said he would. We appreciate your help getting us this ramp.
Zak K. of Baton Rouge, LA
Manufacturer
---
Jeff Mann was very easy to deal with. Excellent communications and a painless transaction. I highly recommend The Yard Ramp Guy if you are in the market for a portable ramp.
Bruce R. of Harrison, AR
Municipality
---
Jeff, you're the MANN!!!! (lol) It has been my pleasure working with you.
Alisa H. of Prince Frederick, MD
Recycling of Heavy Metals
---
Everything is going well with the ramp. Really saving a lot of time. It was very easy to unload also. Everything went as planned in a very timely manner, from placing the order all the way down to delivery.
Craig P. of Houston, TX
Energy-Oil & Gas
---
The ramp was delivered and offloaded this morning as promised and planned. It is everything that was advertised and what we were expecting.
Jim B. of Louisville, KY
Manufacturer of Roof Curbs
---
The ramp we purchased arrived yesterday. We had our first opportunity to use it today, and it worked out great for us. Once again, thank you for all your help in our procuring the ramp.
Kirk L. of Santa Fe Springs, CA
Manufacturer of Thermals & Insulation
Thank you, guys, for coming through. I know we put you in a tight spot, and I appreciate you taking the time to take all of my calls and working out the logistics. I know we have a monthly rental, but we should be done with the move early next week.
Tim C. of Carlsbad, CA
Manufacturer of Magnetic Products
---
The experience couldn't have been any easier. It was the first time we had ever had to rent a ramp like this and it took no time to locate your company and get one booked. I will definitely use The Yard Ramp Guy again in the future.
James A. of Houston, TX
Building Materials
---
The Yard Ramp Guy was a pleasure to work with: your clear communication assured easy access for delivery and pick up. Overall, we were very satisfied with the ramp. Thank you. We intend to use your services again in the future.
Vincent L. of Pomona, CA
Distribution & Shipping
---
I want to thank you and your company for the service with our ramp needs. With the move to our new location, a temporary ramp was the right solution and using The Yard Ramp Guy was the right answer. Your turnkey install and removal services went very well, and the ramp performed admirably.
Dale C. of Plano, TX
Manufacturing
---
It was a pleasure working with The Yard Ramp Guy. Everything came off as promised, on time and on budget. I appreciate your attention to detail and the communication was terrific. Thank you again. We would definitely use The Yard Ramp Guy again. Cheers.
Scott C. of Lake Forest, CA
Distribution & Shipping
---
I want to thank you for all your help in securing the ramp for us. My doctor would also like to send his thanks for your help keeping my blood pressure in check. I have sent your contact info to our facilities department with my recommendation for future needs. Please thank you team for us. Again, job well done.
Dennis K. of Deptford, NJ
Retail
---
The ramp worked out great. The fact that you used a truck with a winch and tilt bed to pick it up was perfect. I enjoyed working with you and will keep you in mind for future projects.
Matt H. of Houston, TX
Construction
---
Working with the Yard Ramp Guy was a good experience. They were professional and followed up to make sure everything went smooth. Everyone I dealt with was very nice and efficient. If the need comes up again The Yard Ramp guy will be the first one I call.
Michael K. of Roseville, MI
Manufacturing
---
We are more than happy with the services provided by The Yard Ramp Guy! It was a pleasure working with your entire team. Excellent communication, and we appreciate you working with our time sensitive schedule on the pick-up and the delivery of the ramp. We look forward to doing business again. Thank you for all your help.
Ariel O. of Houston, TX
Shipping
---
Thank you for the rental ramp and for being understanding. I can imagine it must be a pain dealing with ramps that are procured from other means. You have an awesome service and I would definitely refer you or use your ramps again in the future.
Ian B. of Fowler, CA
Agri-Business – Raisin Farming
---
Working up the arrangements for his ramp went very smoothly. You supplied thorough information for creation of the contract, pricing was competitive, and delivery went without any surprises.
Joe L. of Northvale, NJ
Manufacturer of Optical Products
---
Thank you so much for providing such a high level of customer service! I was extremely happy with everything from pricing to transportation and delivery. I would recommend your service to anyone!
Brad A. of Secaucus, NJ
Event Management
---
We needed a ramp on very short notice for a high profile industrial move we were doing. It was just by luck that we found yardrampguy.com and Jeff located a ramp for us that same day. By the following day, our driver was picking up the ramp. No problems whatsoever. Thanks again.
Dave C. of Seattle, WA
Moving & Storage
---
As my word, any needs come my way you'll be the man.
Randy M. of Oklahoma City, OK
Material Handling
---
Jeff, thanks a lot. The project I'm working on will be completed sometime in late June or early July. When the Emergency Manager gives us the command, I'll be back in touch with you. It was good (and enlightening!) to talk with you yesterday.
Tim C. of Gainesville, FL
Natural Disaster First Responders
---
I can't image doing the season without that ramp. It was perfect! Thank you so much with your help in finding the ramp and getting it to us so FAST! I won't lie, I did price shop all around and you had the best price by far and were the best to work with. The ramp was worth every penny we paid!
Kat S. of Banner Elk, NC
Agri-Business for Landscaping and Nursery
---
The ramp showed up yesterday at the scheduled time. From first calling you to discussing my options to scheduling delivery to having the ramp at our facility, it was a fast, pain-free transaction. I am very satisfied, and would be happy to be a reference for you.
Jared M. of Rockland, MS
Automotive – Tier 2 Supplier
---
Thank you for helping me with this project and for the excellence of service you provided. I will definitely not hesitate to call you again.
Ray F. of Chicago, IL
Distribution/Shipping
---
Thank you for your help on getting the ramp installed and usable. You've been very considerate and sensitive to Orchid Ceramics needs. I appreciate your diligence to get us exactly what we needed.
Kim M. of Tulsa, OK
Manufacturer of Building Materials
---
Jeff Mann provided what I needed. One phone call and a few e-mails, I had a yard ramp sitting at our location.
Randal S. of Houston, TX
Manufacturer of Chemicals
---
We had some concrete work done and needed a 20+ ton ramp to rent. Jeff found one and worked out great. Thank You.
Nelson M. of Lenexa, KS
Manufacturer of Industrial Cranes
Awesome! I just had lunch with Derek...they are happy campers. Heard they got an extra 4,000 lb capacity, even better. Thanks for making me look great to OUR client!
Matt D. of Jackson, FL
Friendly Competitor in the Forklift Industry
It was a pleasure working with you, both buying and selling our portable yard ramp. I described what I needed and you found just the right ramp for us. When it was time to sell, you made it very easy for us to accomplish getting it out of the way in a timely manner.
Claire B. of Austin, TX
Property Management
---
Thanks to The Yard Ramp Guy team for a seamless transaction! If I ever need to buy or sell another ramp, I will be in touch.
Jed H. of Portland, ME
Property Management
---
Thank you for the great and timely service you provided in liquidating ramps at the end of our business cycle. Having you step in and coordinate the sale of our inventory in Florida, Nebraska, and Nevada the way you did saved us time and money.
Greg E. of Portland, OR
Recycling
---
I found the The Yard Ramp Guy on the Internet. Jeff reached out to me quickly. We had several back-and-forth emails, which were always timely. He worked smoothly with us—very courteous and professional—and we sold our ramp. I personally found this to be the easiest and fastest approach. We will use The Yard Ramp Guy again to buy or sell.
Diana B. of Houston, TX
Manufacturing
---
Thanks for your service. I will recommend you if I ever run across anyone with a spare yard ramp.
Jim F. of Lenexa, KS
Agribusiness