Communication and Trust. Rinse, Repeat.

When we needed a stationary dock ramp delivered to Morton Grove, Illinois, we immediately turned to NATCO, our trusted third-party logistics provider.
We've been working with NATCO nearly as long as we've been in business. We shared strong, clear communication right from the start, and the resulting mutual trust between our companies continues to provide the foundation for an excellent working relationship between our two companies.
When we say "companies" we mean the people we work with: Cori Eckley, NATCO's Vice President, along with Sharon Porter and ShaQuanta McCleary in dispatch and operations.
Here's an excellent example of why that strong communication and trust are so important. As our own Sales Coordinator Jim Kunze tells it:
Arriving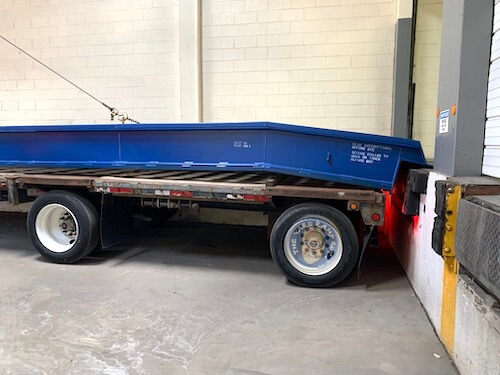 Positioned at Dock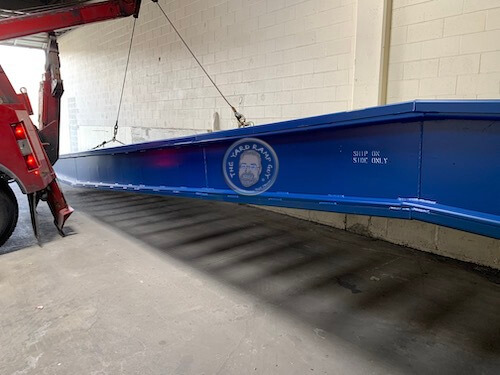 Unloaded
Placed
"The truck was on its way north from Fort Worth. By the time the driver had reached Oklahoma City, his engine light started blinking. The trucking company sent out another tractor that day. They got it swapped out quickly enough, and their mechanical breakdown didn't interfere with our schedule.
"It speaks well of the trucking company and of NATCO for their communication skills. NATCO has always been hands on. When there's a problem, they do something about it. In this case, they gave us the new schedule."
Clear communication about that few hours of delay was particularly important for this delivery. We had arranged turnkey services for the customer, which means we had wrecker and install services that would be waiting.
The last things anybody wants are needless waiting or extra charges. None of that happened for this delivery because communication was so good, which means we were able to reschedule their arrival times. That involves enough advanced notice, which we were able to provide. A truck had mechanical problems. It happens. If anyone was inconvenienced, they certainly were not surprised.
Says Jim, "Sharon and NATCO are really good people. Even with the sheltering in place because of the coronavirus, they continue to provide the same service they normally give. They're simply not allowing it to interfere with the flow of their operations."
Our Morton Grove customer received and had unloaded and installed his stationary dock ramp⏤30,000-lb capacity, 84" wide, 36' long, and weighing some 7,500 pounds⏤thanks to communication and trust.
---
Our gratitude to Cori Eckley and Team NATCO for profiling us in their blog this week.