It's in His DNA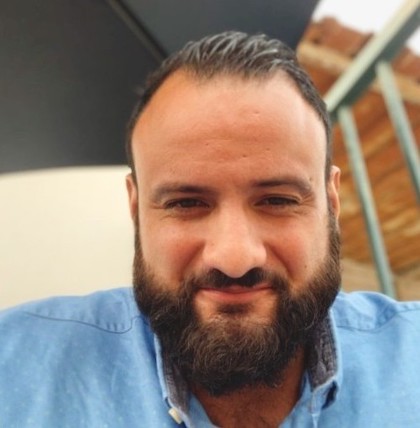 The Yard Ramp Guy is very pleased to welcome Eric Aguilera, our newest team member, as our Rental and "Sell-Your-Ramp" Coordinator.
He joins the polished sales team that includes Sales Consultant Mike Myers and Sales Coordinator Jim Kunze.
Married to Andrea, an ultrasound technician, and with two young children, Eric hails from Southern California.
His insight into our industry flows from and through his family. His father, a purchasing manager, worked for many years with a lift company. His mother works as an accountant for a construction company. His uncle has a forklift business.
Eric has been hearing stories about the trade for years. So, it's no surprise that he's absorbed and continued a sort of family tradition.
In school, his favorite teacher taught biology, and Eric especially appreciated his approach: if you knew the material, then everything was okay. If not, there was a problem. In this way, Eric learned the importance of "knowing your stuff."
His early employment is a fascinating collection. Served in a restaurant at Disneyland (which taught hard work and managing time). Became a security guard for events at Staples Center (which taught how to keep your calm). He helped build space shuttles, working as a composite technician, laying carbon fiber materials on the outside of the shuttles.
Eric also worked for a time with his father at the lift company, taking inventory. This taught him precision and informed his passion for marketing.
Now with The Yard Ramp Guy, Eric will be our rental and "Sell-Your-Ramp" coordinator. Our business process is "done right," he says. "It's perfect. I love the automation of it."
Of our founder and president Jeff Mann, he says, "Jeff is cool. He's a sports guy. He's a good conversation and has some great stories. One quality I especially notice: he cares about his customers like I've never seen. He always strives for something that's fair for both us and the customer."
Says Jeff: "Eric joins The Yard Ramp Guy team full of energy and industry knowledge. We project increasing our total revenues for 2021 by the same 25% growth rate we enjoyed in 2020. With Eric taking over ramp rentals and used ramp intake, we may push well beyond our lofty goals. I look forward to working with Eric closely and watching him unlock his full potential."
Welcome, Eric.
This week, our man McCoy Fields once again lofts us into orbit, only to remind us to take out the trash..
Click HERE to read...well, essentially McCoy's Dept. of Global Sanitation PSA.