Santa's All Ramped Up
In the past few days, we've nearly doubled our posted listings of Used Yard Ramp Inventory.
We've also added one-third more listings to our Yard Ramp Rental Inventory.
Some of those mobile yard ramps and stationary dock ramps are part of our For Sale by Owner program, the sweetest in the business. (We handle everything – the quote preparation, including obtaining freight quotes, off-loading considerations, and follow-ups with the prospects.)
All have optional turnkey solutions, in which we handle the details of the move and/or installation.
Our current distribution has available ramps in some 20 states. And, given the nation's population centers, our ramps sit within 250 miles of 90 percent of the population.
What that means for you is a better ability to save on delivery costs and delivery time.
Speaking of time, if you need or want something new, we now have both new mobile yard ramps and stationary dock ramps in stock and ready for immediate delivery.
Alongside our, again, industry-leading pricing, we're pleased to offer access to yard ramp financing opportunities for those companies that can't or don't want to pull the full price from their accounts.
However you purchase your yard ramp, keep in mind the Section 179 Deduction in which Uncle Same allows you to deduct the full price of qualifying equipment, up to $1,050,000.
The Yard Ramp Guy heartily invites you to explore our blossoming inventory.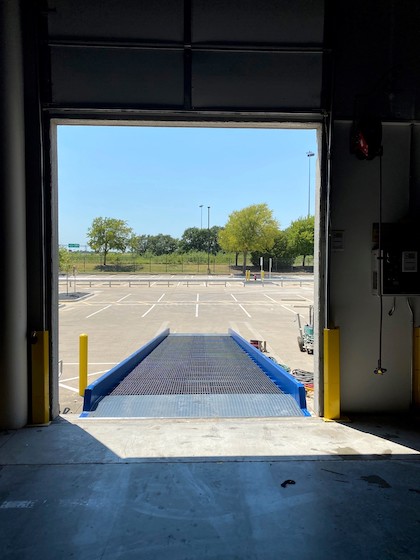 This week, our man McCoy Fields is on the road again, this time in his time capsule.
Click HERE to hit the pavement with him.