Memo from Mann: Inclined Toward Success

A new customer, weighing yard ramp options, recently wrote us with his concern about the solid steel that our manufacturers use in the six-foot level-off on one our most popular ramps for purchase and rental.
Specifically, he much preferred a continuation of the steel grating, which comprises most of the deck, all the way through to the end of the ramp.
It's a great point, with a solid reason: he wanted any snow or rain to pass through the grating so that moisture wouldn't accumulate or pool.
We consulted with our manufacturers to confirm, again, the way we've presented this feature to our potential customers.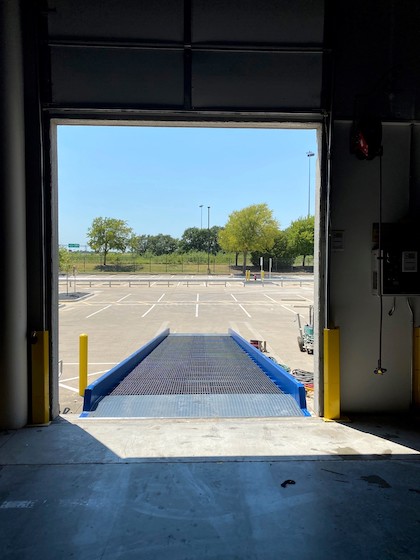 Diamond tread plate has long been the material of choice for the bulk of the deck, due to its patterned surface, which provides some traction. These yard and dock ramps are designed to be used in all weather conditions. (Naturally, we always advise clearing the diamond plate of ice and snow before use.)
In both design and function, there needs to be a smooth transition from ground-to-ramp, from break point of incline to level-off, and from ramp to truck/dock/platform.
Steel grating cannot accomplish this. Grating at that junction would leave a sharp 2" - 3" ridge because the grating cannot be beveled. Without the smooth transition that the flat steel decking affords, forklift tires would be subject to significant wear and tear.
While we're on this roll, it is also very important to select forklifts that handle inclines and are designed and equipped for outside/all-weather conditions.
There are no "standard" forklifts. A good forklift dealer will ask about your application and guide you to forklifts appropriate for outdoor use on inclines. This includes distinctions between surfaces (including steel, concrete, asphalt, wood, gravel, and dirt.)
We thank you for the opportunity to earn your business.

Jeff Mann
Founder and President
This week, our man McCoy Fields debunks alien visitation. And he's not talking about his in-laws.
Click HERE to be transported.