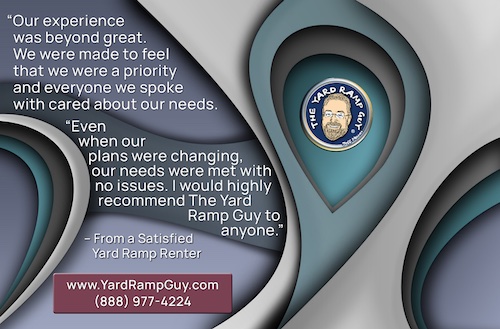 Earning the Right
Everyone loves a positive review.
And, yes, a lot of people love a negative review.
One of the more famous reviews is from Truman Capote, on Jack Kerouac's On the Road: "That's not writing, that's typing."
Naturally, with The Yard Ramp Guy's business, the quality of the inventory itself is crucial to our success.
That said, so, too, is the customer service we offer and utilize in order to deliver a full package, a method of approach that provides minimal fuss, and a complete experience.
We campaign to always ask the right questions, to organize freight, to determine and arrange and implement turnkey services, and to always be proactive in communication with everyone involved.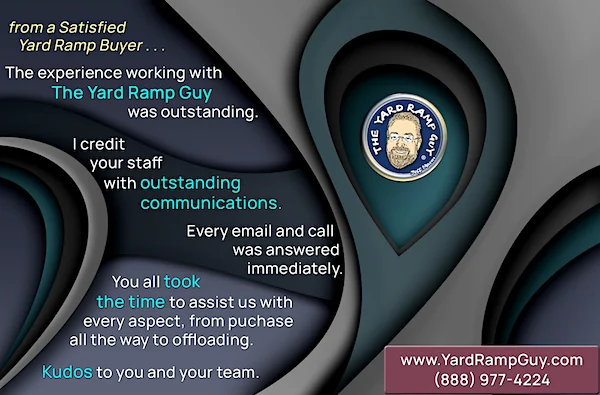 As in: it's not just the Thing itself that counts. It's also very much how we handle that Thing to get it spec'd, ordered, installed, and placed into service.
Though we've thought through our strategy, we're always tweaking the recipe, always looking for ways to improve.
Nothing is more helpful for this than the feedback we receive from our customers.
In our revamped Testimonials page, we proudly display a sampling of reviews over the years from satisfied customers.
On the page, you'll see the different categories: Buyers of New Yard Ramps, Buyers of Used Yard Ramps, Renters, Sellers, and Business Associates.
Bridging those categories are words that our customers tend to use. "Happy" appears a lot, as does "help," "great," "easy," and "smooth."
In honoring our clients, we honor ourselves. As Elizabeth Arden wrote, "Repetition makes reputation and reputation makes customers."
As always, we thank you for the opportunity to earn your business.