Our Above & Beyond Appreciation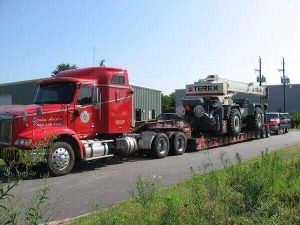 When we thank you for the opportunity to earn your business, that's not an empty catchphrase. Rather, it's our guiding principle. In our experience, business works best when trust, not profit, takes priority.
Time and again, we're honored by our association with customers, vendors, and manufacturers.
Which brings us to Hurricane Florence, which struck the Carolinas in early September of this year. Florence caused at least 55 deaths and some $17 billion in damage. It is the wettest storm ever recorded in North and South Carolina.
The Yard Ramp Guy strategically places its depots across the United States, giving us the ability to shorten delivery time and reduce transport costs for our customers. One such depot is with Ace Wrecker Service in Wilmington, NC. We also contract with them for loads and off-loads for transactions mostly within a hundred-mile radius of their location.
As Hurricane Florence bore down on the Carolina coast, the governor encouraged evacuations. That was followed by a series of voluntary and mandatory evacuation orders, depending on location, as informed by the weather forecast.
At the same time, a Yard Ramp Guy customer needed a ramp delivered from Wilmington to Florida, and we scheduled transport to pick it up.
Because so many people were evacuating, and with the resulting volume of traffic on the roads, our carrier called Ace Wrecker Service to report that he was delayed.
Ace said, We'll wait for you.
Our carrier arrived. He loaded the ramp onto his flatbed, secured it with straps, and took off for Florida.
If the traffic congestion and impending weather would have created imminent danger, we know that the scheduling would have been delayed or cancelled. Because we would have insisted upon it. And, without complaint, we would have found an alternate solution for our customer in Florida. As it happened, the timing was good enough to assure a safe pickup.
The aftermath for people and businesses in the Carolinas was another story. In the wake of Florence, all that rain and storm surge created floodwaters that cut off Wilmington from the mainland for a time.
Our gratitude to the team at Ace for going above and beyond.
This week, our man McCoy Fields has discovered that it took 2,000 years to build a canal, and he's just a bit impatient about the whole matter.
Click HERE to read about it.