We continue our occasional series, examining the various industries nationwide that, in our experience, rely heavily on portable loading docks to increase efficiency.
Why Strawberry Pop-Tarts Matter
In the best of times, the distribution and shipping industry contributes mightily to the flow of any given company's inventory. It serves as a pivot point between factory production and sales outlet, such as a big box store, a mom-and-pop shop, or a grocery store.
In the worst of times, distribution centers serve as vital lifelines to ensure rapid deployment and delivery of essential foodstuffs, disaster and recovery materials, and building supplies.
A growing number of companies use predictive technology—the ability to analyze sometimes massive amounts of data for certain patterns in order to anticipate future behavior. The University of California-Los Angeles even has a Center for Digital Behavior "to advance research on the use of digital and mobile technologies to understand, predict, and change human behavior."
For example: ahead of the devastation of Hurricane Katrina in 2004, Wal-Mart used its predictive technology to distribute extra and specific supplies to its locations in Florida. Interestingly enough, this included beer and strawberry Pop-Tarts.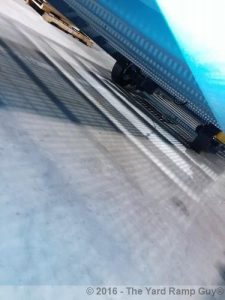 Wal-Mart's chief information officer said, at the time, "We didn't know in the past that strawberry Pop-Tarts increase in sales, like seven times their normal sales rate, ahead of a hurricane. And the pre-hurricane top-selling item was beer."
The hurricane killed 49 people and caused $12 billion in damage. Painful, yes, with loss of life and economic activity. Yet, Florida rebuilt.
In terms of delivering supplies—the sump pumps and new lighting, the window glass and roofing materials—we can readily see how important those distribution and shipping centers are to beginning, continuing, and finishing the reconstruction process.
These centers include capacity for bulk inventory (containing full cartons and boxes) and break-bulk (involving smaller containers than standard bulk). Especially in disaster scenarios, where time is of the essence, the ability for workers to load and off-load inventory quickly—typically by forklift—is essential.
And if those distribution and shipping centers don't have a universal loading bay that's readily accessible, our ground-to-truck and ground-to-dock yard ramps become a key component in streamlining the efficiency of a company's operations.
___________
Quotable
Our man McCoy Fields is himself more like a walking, talking Ripley's Believe It Or Not, and so we present an admiring reflection of him:
The larger the island of knowledge, the longer the shoreline of wonder.Ralph Washington Sockman