We continue our occasional series, examining the various industries nationwide that, in our experience, rely heavily on portable loading docks to increase efficiency.
Ramping Up an Industry's Business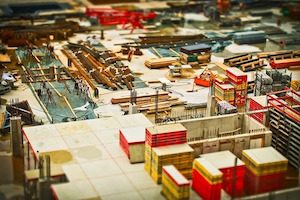 The building materials industry is as far-reaching as there are ways to create a new structure. Naturally, a huge number of materials qualify for inclusion in this category.
Likewise, building materials are essential to their relevant industries, including construction and manufacturing. Among the many areas here, building materials are used for:
Infrastructure—roads, bridges, water projects

Commercial—office and retail shopping construction

Institutional—schools and hospitals

Industrial construction—factories and plants

Housing construction—new home and home refurbishing
Also under this category are the actual tools of the trade, such as:
Lumber and other structural materials

Hardware, including plumbing, tools, electrical supplies

Paint

Floor coverings
Within each of these sectors, architects and engineers come to agreement on the specific materials they'll use. These materials are then ordered, (often) crafted to specifications, and delivered to the job site for the building process itself.
Our yard ramps have essential roles in the movement of building materials.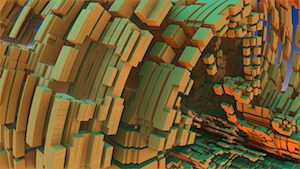 An elementary school, for example: the plan is to demolish the old school and construct a larger and more efficient building.
Let's say that the construction schedule is 15 months, timed this way to begin the day after the school year ends and completed in time for the first day of classes the following year. The students and faculty have been relocated to a nearby building in the school district during construction.
So, time is of the essence. Given that schedule, everything depends on the smooth delivery of materials to the job site and competent construction. And since this is a school, let's (easily) picture the architect's design for placement of cinder blocks for classroom walls.
The construction company requisitions those cinder blocks in regular rotation from a local factory. And that's where The Yard Ramp Guy enters the scenario—with, say, a ground-to-truck and a ground-to-dock yard ramp strategically placed at the factory or at the job site to optimize and streamline timely loading and off-loading of these essential building materials.
Now, let's broaden that scenario. Picture the rows of building materials lining your local big box supplier and mom-and-pop hardware stores. The do-it-yourselfers can readily lift and transfer a small batch of materials to their personal vehicles.
That said, how that large order reached the company's floor in the first place is where The Yard Ramp Guy often, and proudly, contributes.
Honored
On behalf of my fantastic team here at The Yard Ramp Guy, we're honored to receive the Blue Star award in recognition of being named to Bluff Manufacturing's Gold Dealer of Excellence Club. We're proud to be part of Bluff's success and Bluff is certainly a major part of The Yard Ramp Guy's success.
___________
Quotable
Our man McCoy Fields consistently finds terrific quotations in his weekly blog. When it comes to quoting Ice Cube, though, we're winning:
What I learned from architectural drafting is that everything has to have a plan to work. You just can't wing it. I can't get all the materials I need for a house and just start building. Whether it's a career, family, life - you have to plan it out.Ice Cube