Our Loading Dock Says "Aloha"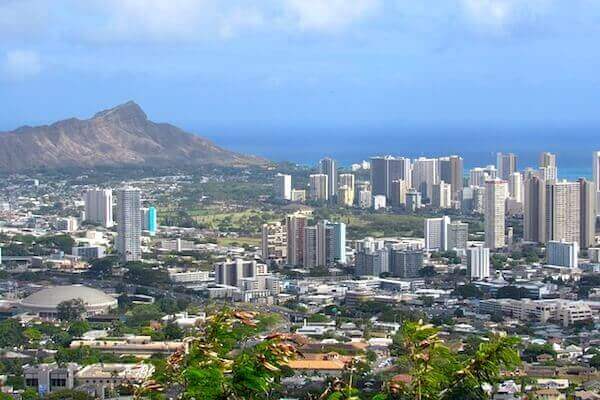 When a restoration and reconstruction business in Honolulu needed a stationary loading dock, The Yard Ramp Guy said Aloha. 'A'ole pilikia. ("Hello. No problem.")
The challenge was transporting a three-ton piece of industrial equipment across twenty miles of southern California highway to a harbor, then 2,500 miles across the Pacific Ocean to our customer in Hawaii's capital.
To be clear: this was a challenge, not a problem. Whether across town or across the ocean, a movement of freight is an issue of logistics. The Yard Ramp Guy team coordinated smoothly with our manufacturer and logistics partners to deliver.
And so, we had an intermodal scenario—a combination of transportation methods. Fortunately and unsurprisingly, companies transport from land to sea to distant harbors all the time.
In this instance, an ocean freight company specializing in California-to-Hawaii delivery placed the loading dock onto a flatbed truck at our manufacturer's plant. For protection, it placed the loading dock inside a rectangualr rack—a steel frame some 40 feet long and eight feet wide.
The next steps:
At the harbor, a crane lifted the loading dock, in its frame, from the flatbed and placed it onto the container ship;
the ocean journey took six days to reach Honolulu Harbor;
the shipping company's crane picked our container off the ship; and
placed the loading dock onto a flatbed truck,
which was delivered to the customer's location.
The special consideration in the entire transport scenario was fitting into the ocean freight transport company's schedule.
Beyond that, and as a follow up, the customer contacted us via Skype to confirm proper installation of the anchor bolts at their dock.
Mahalo.