The Yard Ramp Guy: New Yard Ramps
About Our New Yard Ramps
The Yard Ramp Guy works with well-known and highly respected manufacturers. In our new yard ramp gallery you'll find quality dock ramps, portable ramp/platform systems, dock boards, dock plates and custom mobile and portable ramp and dock solutions.
In selecting which manufacturers to work with, quality of product is the prevailing criteria. Therefore, all of our new products are strictly U.S.-engineered, U.S.-made from U.S. raw materials and meet U.S. testing standards.
There is no end to the standard. Our Gallery presents standard ramps meeting the mainstream needs of our customer base as well as many custom solutions.
Why does The Yard Ramp Guy feature only three yard ramp manufacturers?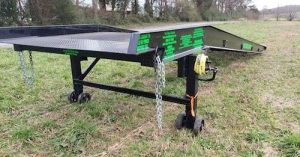 The three manufacturers featured—Bluff Manufacturing of Ft. Worth, Texas; Mid-State Ramps of Denton, North Carolina; and QMH of Rancho Cucamonga, California—each make outstanding quality products and are the three leading makers of yard ramps.
There are a few other manufacturers making quality products but not, in our opinion, with the same commitment to the vertical product line. They also sell at price points beyond our business model. We would have no hesitation to re-sell one of their ramps as used. However, for most of our customers' applications, they do not match our goal for being the most reliable and lowest priced yard ramp dealer in the country.
Yard Ramp Financing
MADE SIMPLE

Buy a Yard Ramp Right Now & Take a Full Section 179 Deduction for This Year!
↓