New Yard Ramps by Mid-State Ramps
SPECIFICATIONS
PRICE
Call for Quote: 888.977.4224
MODEL #
Varies by specs (i.e.: M16-70-36L)
LOCATION
Denton, NC
AVAILABILITY
Production 7-10 Working Days
BUILD DATE
New
CONDITION
New
CONSTRUCTION
All-Steel Frame & Deck
CAPACITY
Standards: 16K, 20K, 25K, 30K up to 100K
WIDTH
Standards: 70", 84", 96", 102, 120"
LENGTH-TOTAL
Standards: 30' All Incline / 36' (30' Incline; 6' Level-Off)
CURB HEIGHT
Standards: 8" (custom applications vary)
SERVICE RANGE
Mobile: 42" - 58" / Stationary: 33" - 58"
LEVELING MECHANISM
Mobile: 2-Gear Hand-Crank / Stationary: N/A
TIRES
Mobile: Black Cast Poly Wheels (10" x 3") / Stationary: N/A
SAFETY CHAINS
Standard: Includes

Safety Chains & Side Rail Hooks

RAMP CLAMP
Mobile: Includes Tethered Ramp Clamp / Stationary: N/A
MOUNTING ANCHOR HOLES
Includes Pre-Drilled Top & Bottom Apron Anchor Holes
MOUNTING BRACKETS
Optional (add $250.00 for pair)
WEIGHT
Varies by Specs
NOTES:
Actual ramp shown. 

Freight not included.
Price is subject to change.

Availability is not guaranteed.
---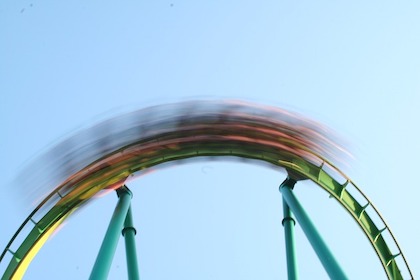 A Note on Steel Pricing
Due to recent volatility in the steel industry, our factories are passing through to us a "steel surcharge" on new yard ramps. We, in turn, will pass through this charge to our customers without markup.
As with prior spikes in steel pricing, we believe this is a temporary condition. Economists are predicting steel demand to significantly outpace supply through the end of 2021.
Fortunately for our customers, The Yard Ramp Guy's status as the #1 dealer for each of the three factories we represent means the factor used to calculate our steel surcharge is considerably more favorable than that of our competitors.
We will continue to sell yard ramps at pricing lower than our competitors and lower than our factories will sell directly to end users.
Thank you for your understanding as we all navigate these continued strange times.