Going Full Circle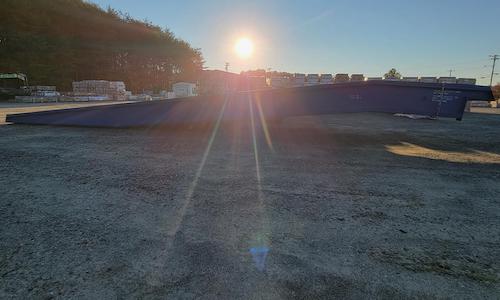 In our corner of the universe, we've long said that the two best days of an owner's life are the day they bought the business and the day they sold it.
That's commonly known as exit strategy.
True to form, many companies focus on helping you with exit strategy. That is: they're in business to help put you out of business.
One such company, NAVIX, tells us there are only four exit strategies:
Pass to Family

Sell to Outside Third Parties

Sell to Inside Key Employees

Planned Liquidation
Back to our corner of the universe. If you are wanting to sell not the business itself but an asset ⏤ hello, yard ramp ⏤ and you can sell it to your sister or nephew (Strategy #1) or your bookkeeper (Strategy #4), let's hope they have really big back yards.
Companies sell off their yard ramps for a number of reasons. Let's say they've repurposed their focus and no longer need an inclined plane to load and off-load inventory. Or They're relocating to a facility that doesn't require a yard ramp. Or a yard ramp already exists on site the new facility. Or they have a two-year lease on a new property.
Whatever the reason, we're here to help with that exit strategy.
From the very first contact, we're looking to help customers make the easiest decisions. (For example: Though we don't finance, if people can't or don't want to lay out the money for a purchase, we do direct them to finance companies.) When you're done, you have us to turn to in order to liquidate that purchase.
And right from the start, we let our prospects know about our buy-back program. That is, we walk you through the the cost of purchasing a ramp and the value by which you'll mitigate that cost when The Yard Ramp Guy helps you convert that steel back into cash.
Already have a yard ramp? With our brokerage services:
We share with you the market value, based on our appraisal and the geographical location of your ramp.

We make a recommendation for what we believe the asking price should be for your ramp, and together we agree upon the asking price.

We'll discuss and agree upon sales negotiating strategy. And we will split the final sale price – 70% for you, 30% for The Yard Ramp Guy. That is not a typo.
We post and market the ramp through our website listings, we handle the transaction, and we coordinate any turnkey services the new buyer might need.
It's much easier than you posting it on eBay or craigslist.
Or trying to convince your sister, nephew, or bookkeeper how great that ramp would look in their yard.
This week, our man McCoy Fields goes diving in the ocean...to go mountain climbing.
Click HERE to see how he does it without ever leaving his BarcaLounger.