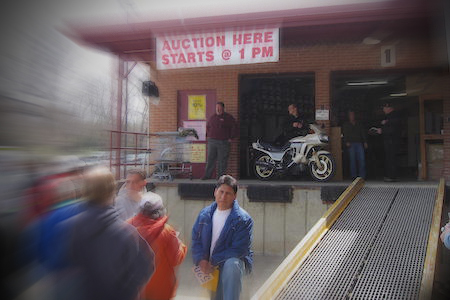 Uplifting News
In addition to rental and sale of new and used yard ramps, The Yard Ramp Guy's successful brokerage service provides your business with a streamlined way to sell your old ramp. By listing and promoting your ramp on our site and via our sales team, we take the hassle out of the process for you. And we offer you sweetened terms ⏤ 70% for you, 30% for us (not a typo) ⏤ that are otherwise unheard of in the industry.
We've been offering this service for many years and, while we're always up for new things, we thought maybe we'd seen it all...until Kim Harrison contacted us.
Kim is the general manager of Coleman PowerSports in Falls Church, VA. The company, now with two locations, is one of the preeminent sellers of motorcycles, ATVs, side-by-sides, and snowmobiles. Coleman PowerSports is consistently at or near the top rankings in its categories (i.e., motorcycle riding schools, Ducati dealerships).
Kim's father, Bill, started the business in 1963 as a BSA dealership, then added Honda and Yamaha and soon evolved into a power sports operation: jet skis, personal watercraft, lawn mowers, scooters. ("Lawn mowing" is not an official sport yet ⏤ we asked ⏤ but the machinery can be very powerful.)
Soon enough, as business grew, Bill ramped up his operation by purchasing a ramp to ease movement of new motorcycles, which were delivered in crates, out of the truck and into the showroom. It doubled during auctions, providing an easy way to bring bikes up to the auctioneer. In time, Coleman PowerSports "retired" the ramp from that work and repurposed it as a pedestrian ramp against the loading dock.
When Kim contacted Yard Ramp Guy president Jeff Mann about brokering the sale, he was struck by three things.
"My first thought," he said, "was nobody makes specs like that." The industry standard today is 20,000-lb capacity, 84" width, and 36' length. Kim's ramp: 11,000-lb capacity, 60" width, 30' length.
Second: the frame was constructed of magnesium. Though not a rare metal (it's third-most plentiful structural metal on Earth), Jeff couldn't recall ever seeing magnesium used in a yard ramp manufacturing. (Magnesium as a metal is good for use in locations near salt water, and part of its processing actually involves seawater.)
Click thumbnails to enlarge these gems.
Third, and most surprising, and most pleasing: this yard ramp has had ONE owner for all of its 51 years in operation.
For perspective...in late spring of 1971, FedEx was founded, the New York Times began publishing the Pentagon Papers, "Willy Wonka & the Chocolate Factory" with Gene Wilder was released, and Bill Coleman purchased a magnesium forklift ramp.
Yes, it gets better. As Kim remembers, "Charlie was the forklift operator. He was one of my dad's first employees, and he stayed with us from the 60s to the 2000s."
George Brett played third base for the Kansas City Royals for his entire 21-year career. The Wayside Inn, Sudbury, MA, has the oldest continuously operating restaurant in the United States (336 years). Somewhere, there's a 1953 Chevrolet Bel Air, in perfect condition, with 4,000 miles on it, driven by a sweet little old lady, only to and from church on Sundays.
The Coleman family kept the same forklift ramp in its business for half a century. It remains in our categorized "Very Good" condition. Hydraulics work. And it's for sale (see the listing HERE).
We just love a ramp with a story. We're honored that Kim Coleman chose us to broker the sale. And we're grateful to Bill Coleman for saving these remarkable documents.
Speaking of magnesium, this week our man McCoy Fields gives a timely shout-out to the man who discovered magnesium. And that, of course, happens as he describes how coffee helped improve our world.
Click HERE to get intellectually caffeinated.