Accommodating Your Ramp Requirements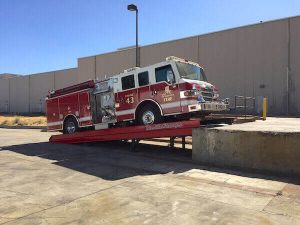 Our goal has always been matching our customers' needs with the best solutions.
In addition to providing standard yard ramp lengths and widths, we provide custom solutions for creating special yard ramps and their combinations with a variety of portable or mobile leveling and mobility mechanisms.
Here's an excellent example: Glen Allen, President of Newport Real Estate Services in Newport Beach, CA, contacted us this past summer for a custom-designed dock ramp.
At the time, Glen was beginning the refurbishing of an 600,000 square-foot, 49-acre refrigerated and dry-storage facility in Sacramento. To restore the building, he needed access for trucks driving into the structure to deliver necessary building materials, including: concrete, drywall, and wood deliveries. Ultimately, the future tenant would also need access.
Glen is a savvy developer, with 40 years of experience. Informed by the physical design of the facility's loading dock and the types of vehicles making deliveries, he sketched out and presented his own drawings.
The solution? An 80,000-pound capacity, 10-foot-wide ramp that we coordinated with one of our manufacturers we work with. (The 80K-pound capacity reflects the weight of the heaviest ready-mix truck.)
"There were no glitches," said Glen. "They sent the ramp on time, on a giant tow truck. The next day, my welder, matched it up perfectly using six-inch welds. We cranked it up and down a bit. We turned the bolts, welded the feet, and stick-welded the ramp to the edge of the bay."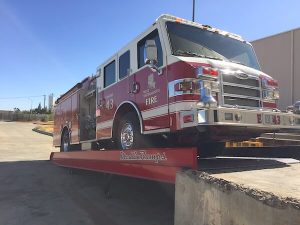 That fire engine in the accompanying photos? No: there were no fires to put out. Glen arranged it to demonstrate capacity and proof of structural integrity. (Note: The flashing lights add no extra weight…but look pretty cool.)
While this is the highest-capacity ramp custom-ordered through The Yard Ramp Guy in the past couple of years, Glen's 10-foot-wide dimension is not the widest available capacity.
"There is no limit," said this manufacturer's rep. "The largest to date is 14 feet. We do a lot of custom stuff. It's my cup of tea. I enjoy that."
It's our cup of tea, too. We enjoy—and are committed to—getting it right for all our customers.
___________
Quotable
Yes, McCoy Fields — There we are, back on our quote-off track:
Take care to get what you like or you will be forced to like what you get.George Bernard Shaw