We continue our occasional series, examining the various industries nationwide that, in our experience, rely heavily on portable loading docks to increase efficiency.
The Placement of Loading Docks in the Logistics World
Prominently and near the top of our recently redesigned homepage, we state that "first we earn your trust, and then we earn your business." It sounds, good, yes. It's also very much our core belief in how we approach our customers, vendors, and business associates.
We've learned that knowledge is one of the best ways to demonstrate our expertise—and one of the surest ways to gain your trust. And so: Just as we constantly strive to maintain and enhance our corner of the industrial yard ramp market, our own "continuing education" never ends.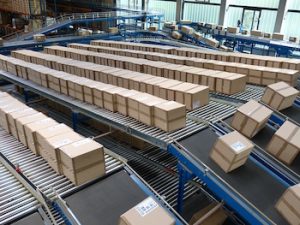 Some examples:
The Yard Ramp Guy team keeps itself up to date on

the industries we serve, anticipating market trends and customer requirements.


We study best practices in business administration, looking to further optimize our own behind-the-scenes operations in order to streamline your experience with us even more.

We talk with our vendors, from our manufacturers of quality yard ramps to our transportation partners and web and marketing directors. We connect with them often to learn about the issues in their businesses and apply their insights to our own business.

We study the weather. Yes, the weather. This isn't just to see if we need an umbrella on any given day. If longer-term predictions point to, say, mild or dry winters, that helps us anticipate future conditions of a used yard ramp in a particular section of the country.
Factors that affect the industrial yard ramp business also affect the larger picture of what our work contributes to: the material handling world.
By definition, material handling is the movement of materials and products in the confines of a building or between a building and a transportation vehicle. Some statistics:
Material handling

is a key element of manufacturing and logistics, which accounts for more than 20% of the US economy.

Material handling and logistics account for one of the nation's fastest growing industries.

More than 700,000 US workers are involved directly in

material handling.

The country's businesses spend more than $150 billion each year on material handling and logistics equipment and support.
We're proud to place our inventory—often literally—at the intersection of business operations and commerce.
___________
Quotable
To our man McCoy Fields—we cordially invite you to try outshooting Bill Walton:
I learned a long time ago that "minor surgery" is when they do the operation on someone else, not you.
Bill Walton, Portland Trail Blazers