Lofting to a Higher Plane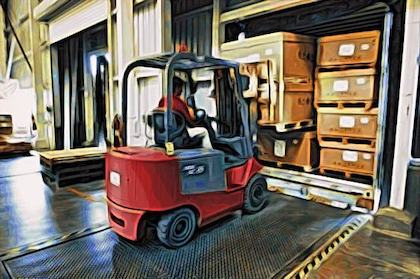 Our inventory, among other names, is often called a forklift ramp. And for good reason.
Aside from warehouse, construction, recycling, event planning, and other team members walking on a ramp, the forklift is the go-to machinery to get your pallet from truck to ground and from ground to dock. And back again.
Our portable loading docks and stationary dock ramps are designed to handle these loads, Our Yard Ramp Guy team assess your requirements, then matches and recommends the right specifications ⏤ capacity, width, length ⏤ to assure it meets and then exceeds safety standards. As in, bottom line: wide enough and strong enough to carry the load without bumping the rails or compromising the integrity of the steel.
Right from the start, we decided to focus on one thing: renting, selling and buying new and used yard ramps.
That said, if we were ever to expand our scope of offerings, we just might add forklift sales and rentals. Because ⏤ and at risk of sounding like our man McCoy Fields ⏤ forklifts are really cool.
With all due respect to John Henry (and we love John Henry's can-do spirit), the forklift can simply lift more weight than even the strongest human. It typically features a low center of gravity, which minimizes the risk of tipping over) and has excellent maneuverability.
Pick the right one, and it can move virtually in any direction. Cool, funky soundtrack not necessarily included:

Technology hasn't left forklifts wanting. Hydrogen-powered machines that emit only water vapor are being tweaked and improved upon, toward mass-market consumption. And yes, the whole driverless forklift is employed (albeit with no health insurance benefits) at big-box companies like Amazon. (Note that we're all for good use of good technology, but we take a bit of pause when humans need to stop their steps to keep out of technology's way.)
What we like best with the current scenario, that's by far the most common, is the optimization and streamlining when humans and machines work in tandem: getting your pallet from truck to ground, ground to dock, dock to warehouse. Team members utilize the ramp, the forklift, the company space, with efficiency. Though it's not the foxtrot, it is a fine dance.
This week, our man McCoy Fields falls off the end of the earth, then, well, circles back.
Click HERE to witness his incomparable rotation.