We continue our occasional series, examining the various industries nationwide that, in our experience, rely heavily on portable loading docks to increase efficiency.
Strengthening an Invaluable Tradition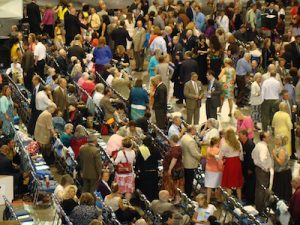 Trade shows are big business.
In the United States alone, exhibitors spend more than $24 billion each year on trade show displays, along with more than 30 percent of their total marketing budget for such events.
The trade show concept spread to North America from Europe in the late 1900s. Today, more than 10,000 trade shows are calendared every year across the nation.
The trade show environment is unique in the B2B industry. Among the many benefits:
Both exhibitors and attendees find great value in face-to-face meetings.

It provides a centrally-located comparison shopping scenario, with hands-on ability to evaluate new, potential products.

Some 80% of trade show attendees have buying authority.
(We found this site to be a terrific source of information: Center for Exhibition Industry Research.)
When organizers of trade shows, large or small, need to streamline the loading and offloading of equipment for exhibitors at a given an event, they call The Yard Ramp Guy.
Many large venues in large urban areas maintain a full calendar of events; for them, it might make sense to have a permanent yard ramp solution.
For example: at nearly two million square feet, the Las Vegas Convention Center is one of the largest exhibit spaces in the world. Its convention calendar shows nearly continuous booking throughout the year.
For other venues that experience occasional surges in trade show activity, a temporary, short-term rental might make more economic sense.
We're proud to provide a behind-the-scenes—and yet essential—contribution to these events.
___________
Quotable
We suspect our man McCoy Fields might not be the staunchest Midwest baseball fan. And so, we tempt him toward doing some research:
I tell him "Attaway to hit, George."
Jim Frey, K.C. Royals manager, when asked what advice he gives George Brett on hitting