We continue our occasional series, examining the various industries nationwide that, in our experience, rely heavily on portable loading docks to increase efficiency.
Building, Moving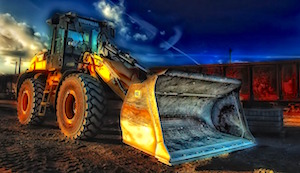 Loosely defined, construction is a process for putting together a building. Naturally, the construction world is closely aligned with the manufacturing, mining, and building material industries, as it depends on their products in order to implement a design.
Some statistics:
In 2015, the top three countries involved in construction were India ($849 billion), the United States ($599 billion), and China ($569 billion).

Construction accounts for 4% of the U.S. gross domestic product.

There are more than 720,000 construction companies throughout the nation.

Nearly 8 million people are employed in the industry.

The top three construction occupations are carpenters, laborers, and managers.

In the United States, Completed projects create a structural value of some $1 trillion per year.
It's a huge business and contributes mightily to local, state, and national economies.
Construction most often involves a commissioned project—that is: a structure that's been ordered by the client. The deposit is paid, the architect's blueprints approved, the crews hired. You break ground, and you build.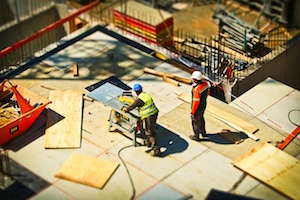 Before any of this begins, though, precise coordination of all elements that go into a single construction project is vital to its success. These include: the architect, project manager, design and construction engineers, and construction manager. All around, best practice is to plan ahead in order to minimize delays.
That's where the manufacturing and building materials industries—and The Yard Ramp Guy—have essential roles. For example, in order for the carpenter to begin constructing a building's frame, the wood (or the glass, or the steel, or the molding, etc.) must be ordered, cut to specification, and delivered.
The off-loading of raw materials, processing, on-loading finished materials, and delivery: all play crucial parts in the process. Proudly, we continue to match our quality inventory of portable loading docks to our customer requirements, contributing to the optimal flow of the construction industry.
___________
Quotable
While we're more competitive in the yard ramp business than we are in blog topic-appropriate quotations, our man McCoy Fields keeps challenging us. Beginning this week, we accept the challenge:
If a building looks better under construction than it does when finished, then it's a failure.
Douglas Coupland