Profiling a Valued Service Provider
These past weeks, we described our Turnkey Delivery and Installation Services – both in general terms and with specific examples.
Turnkey services are extremely beneficial for our customers who don't have the resources for—or don't want to deal with—off-loading and securing their yard ramps.
Your business deserves an order from our inventory put into service as quickly, securely, and smoothly as possible. That's always been our commitment to our customers.
Getting the job done correctly has always been the bottom line for our strategy. Toward optimizing our efficiency, we've developed many strong professional relationships with our service providers. This week, we profile one of these valued providers.
_______
Eighteen miles west of Atlanta, GA, is Lithia Springs, home of Dixie Wrecker Service. Among other services, its fleet and crew cover tire replacement, fuel delivery, large and small vehicle towing, and lock-out.
When we needed an off-load in the area recently, we contacted Brian Freeman, who runs Dixie Wrecker. This was the process:
Two days before delivery, Jim Kunze, our Yard Ramp Guy Sales Coordinator, called Brian to schedule the off-load.
Jim followed that with an email to Brian, listing the specs and exact time of delivery.
The day before delivery, Jim phoned Brian to confirm everything.
That is, the off-loading component of our largest custom solution in years required two phone calls and an email.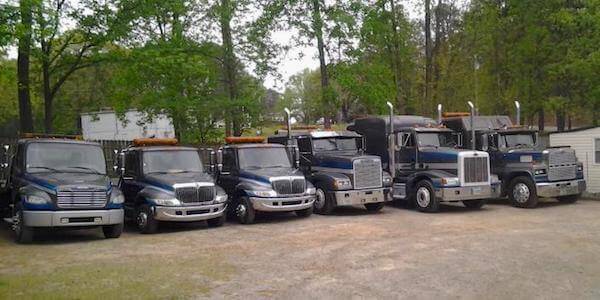 "In this business it's hard to arrange things at the last minute," says Brian Freeman. "Some people call us 30 minutes ahead of time and expect we're able to handle everything. So, it's important to arrange things in advance. It's easy to work with The Yard Ramp Guy. They communicate. And they're good at it."
Part of the expertise we appreciate is Brian's attention to detail. He services his trucks every seven thousand miles, whether they need it or not. And he's adopted trucker GPS to his fleet.
For our off-load, Brian used one of their 35-ton heavy-duty wreckers. Another reason we appreciate and trust him: "Some like to use cranes for a job like that," he says, "but that's overkill and more money that you shouldn't have to spend."
Brian has been in wrecking much of his life and with Dixie Wrecker 14 years. "My dad's not the type to just give you a job," he says. "He wanted me to go out, see the world, and start at the bottom. Which I did, driving the oldest truck. So, I earned my way into the position.
"Over the years, my dad was the most honest guy you'll ever meet, I try to stay within the guidelines he always had. And one of his main things was: if you're honest with people and offer a service at a fair rate, you'll build your business."
Usually, in this business, you never know what yer gonna get till you roll up on it," says Brian. "I've been working with The Yard Ramp Guy a couple years now. When Jim calls, I pretty much know what he needs.The heads up – a day or so in advance – makes it easier to schedule. It's turned into a great relationship."
And the respect works both ways. Our man Jim says, "Brian and his team at Dixie Wrecker have always provided great service to our customers. They are on time, communicate very well, and perform the exact services requested. The service Dixie Wrecker provides is a great example why many of our customers take advantage of our Turnkey Delivery and Installation Services."
___________
Quotable
Yes, sir, McCoy Fields — Zipping up our end of the alphabetical quote-off:
Za dvumya zaitsami pogonish'sya, ne odnogo ne poimaesh'.
(If you chase two rabbits, you will not catch either one.)Assyrian proverb