Where It's At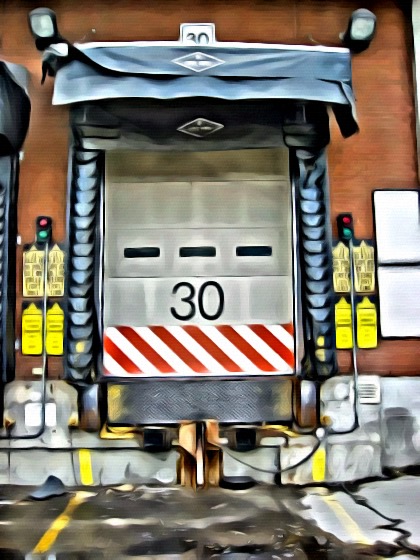 We have a variety of names for our inventory:
Yard ramp. Portable loading ramp. Stationary dock ramp. Forklift ramp. Loading dock ramp.
What connects them is the "ramp" part of the wording. And that they're designed for inclined planes, giving you the ability to move something either from ground level up or a higher elevation to the ground.
(Fun fact: there are some ramps designed for a single elevation. Think boat dock ramps, getting you from shore to schooner.)
Our customers put our products in a couple of key places. One is moving the ramp into place at the end of the delivery vehicle, allowing a forklift operator to lift pallets and roll them into the truck or from the truck to ground level. The other is putting the ramp at the loading dock to move inventory in and out of the warehouse.
Both at the delivery vehicle at at the loading dock, you want the ramp, with an average weight of 6,000 pounds, to stay in place.
By definition: the loading dock is an area of a warehouse or building where loading/unloading of transport vehicles takes place. A vehicle is...well, we know what a vehicle is.
It's the point of contact that's key to a successful ⏤ and safe ⏤ movement of inventory. Vehicles can be prone to what the industry calls "trailer creep," when, say, the forklift's continued entry and exit causes the trailer to slowly pull back from the dock. With vehicle and ramp alike, the warehouse team wants to assure they stay in place, whether by lifting the ramp wheels off the ground or placing chocks against the wheels.
Both are designed to immobilize the vehicle and the ramp. Businesses want a streamlined operation. Preventing trailer creep or ramp movement helps tremendously with that smooth flow of inventory and guards against serious accidents.
Our team (our growing team; more on that in our next blog) is trained to work with you on finding and selecting the right specifications for your yard ramp. That includes dimensions of your warehouse bay and the lifting capacity of your forklift.
Contact us. We'll walk through your particular scenario. Let us help you ramp up.
---
A healthy, happy, and peaceful Thanksgiving to our team, our vendors, our manufacturers, and their families.
This week, our man McCoy Fields has a bone to pick with paleontology.
Click HERE to discover all the rumpus.