Forklift Ramps Within Favorable Washington Freight Lanes
MOST of our yard ramp rentals are also available for purchase.
SOME of our used yard ramps might be available for rental.
Please contact us at 888.977.4224 for additional information.
Washington Forklift Ramps for Sale & Rent
(to the tune of "The Star-Spangled Banner")
O say can you see, your yard ramp's seated right,
What so proudly we nailed all the specs for the renting,
Whose broad width and right length holds the forklift with might
O'er the yard ramp we watch'd were so valiant presenting?

And the tow bar's placed there, to move ramp like in air,
Not rustproof, though just right if you will take good care,
O say does that yard ramp just glimmer and behave
Call Jeff Mann now toll free and we know you will rave.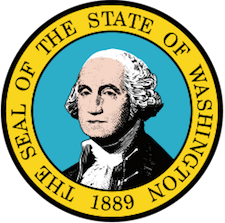 Angling The Evergreen State
From Seattle to Spokane, and from Vancouver to Yakima, The Yard Ramp Guy covers all your business needs for quality Washington forklift ramps.
The Yard Ramp Guy Covers Washington
The Yard Ramp Guy offers portable loading docks of the highest quality for your loading and unloading of inventory in Washington. We contract with manufacturers who make all new portable loading docks exclusively in the United States, and we work tirelessly to get your portable loading dock to and from its destination on the date you request.
Our yard ramp inventory is generally within 250 miles of 90% of the population. Which means lower freight costs and reduced time in transit.
The Yard Ramp Guy: Your Strategic Partner
The site presents what we trust is valuable information about our company, yard ramps in general, and what you should expect when working with The Yard Ramp Guy. We work daily with clients of all types, including: manufacturing, recycling, agribusiness, building materials, construction, distribution, and shipping.
We update our listings regularly. Contact us: We'll work diligently to find the right forklift ramp for your business needs inWashington..
And be sure to see our industry-leading Live Locator Map. The map provides you with up-to-date locations and connectivity to the details and photos for all our quality forklift ramps for sale and for rent.