Ready-to-Go Yard Ramps for Immediate Delivery
Save up to 18%. The Yard Ramp Guy's new in-stock program provides lower ramp prices and reduced freight costs for deliveries.
The highlighted area on our map shows a 250-mile radius from our inventory depot in Longview. This covers nearly half of Texas ⏤ including Dallas/Fort Worth, Austin, Houston, Beaumont, and Wichita Falls ⏤ ready for delivery and setup at your loading bay or warehouse.
For Immediate Delivery - Purchase or Rental
SAVE $$$ ON RAMP COST:

The Yard Ramp Guy's prices are among the lowest in the nation.

FAST DELIVERY:

Place your order Monday. Pay us Tuesday. Receive your ramp as early as Wednesday.

SAVE $$$ ON FREIGHT:

Shipping locations MUCH closer to you.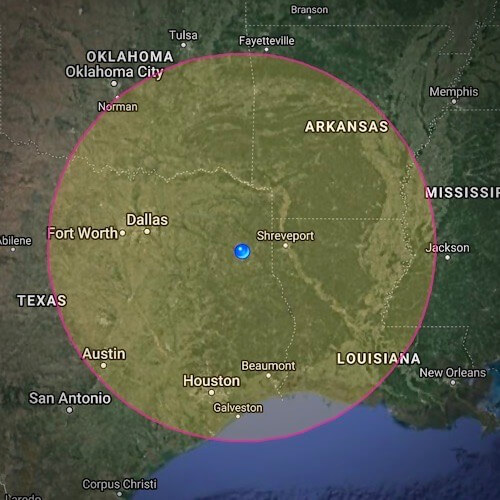 Used & Rental Yard Ramps Within Favorable Texas Freight Lanes
---
MOST of our yard ramp rentals are also available for purchase. SOME of our used yard ramps might be available for rental. Please contact us at 888.977.4224 for additional information.
Your Source for Quality Texas Portable Loading Docks
(to the tune of "Yellow Rose of Texas")
I'm The Yard Ramp Guy for Texas
I deliver used or new.
Yes, I'll find the perfect unit
To satisfy your crew.
Just tell me what you're needing
Width in 70 or eighty-four?
And if you ever have a question
Call Triple 8-977-4224.
In The Lone Star State
From Houston to Amarillo, from San Antonio to Dallas, from El Paso to Corpus Christi, The Yard Ramp Guy has all your business needs covered for quality Texas portable loading docks.
The Yard Ramp Guy Covers Texas
The Yard Ramp Guy offers portable loading docks of the highest quality for your loading and unloading of inventory in the great state of Texas. We contract with manufacturers who make all new portable loading docks exclusively in the United States, and we work tirelessly to get your portable loading dock to and from its destination on the date you request.
With depots strategically located throughout the country, our inventory is generally within 250 miles of 90% of the population. Which means lower freight costs and reduced time in transit.
Contact us to discuss your particular portable loading dock requirements for your Texas business.
And be sure to see our industry-leading Live Locator Map.
Alternate Take
Here's another version of our Texas song:
The Yard Ramp Guy: Your Strategic Partner
The site presents what we trust is valuable information about our company, yard ramps in general, and what you should expect when working with The Yard Ramp Guy. We work daily with clients of all types, including: manufacturing, recycling, agribusiness, building materials, construction, distribution, and shipping.
We update our listings regularly. Contact us: We'll work diligently to find the right forklift ramp for your business needs in Texas.
And be sure to see our industry-leading Live Locator Map. The map provides you with up-to-date locations and connectivity to the details and photos for all our quality forklift ramps for sale and for rent.