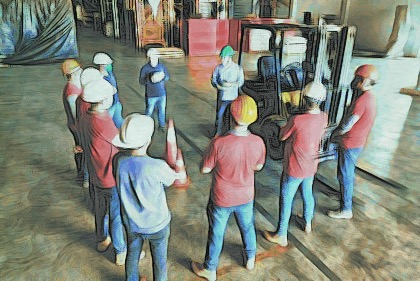 Staying Safe on the Job
The Occupational Safety and Health Administration recently released its study of workplace safety violations. Here's the list:
Fall Protection – General Requirements: 5,295 violations
Respiratory Protection: 2,527
Ladders: 2,026
Scaffolding: 1,948
Hazard Communication: 1,947
Lockout/Tagout: 1,698
Fall Protection – Training Requirements: 1,666
Personal Protective and Lifesaving Equipment – Eye and Face Protection: 1,452
Powered Industrial Trucks: 1,420
Machine Guarding: 1,113
Fall Protection can be readily associated with yard ramps. Our most popular yard ramp weighs about 6,150 pounds. That's three tons. (For perspective, that's the weight of 400 bowling balls.)
Once positioned, the ramp typically sits at an angle, allowing access from ground to elevated dock. And that's where safety precautions are essential.
Hand trucks and forklifts travel up and down the yard ramp, though largely not on their own. Humans position and guide and move inventory along the incline. The scenario has any number of potential dangers. Humans falling off the ramp. Your forklift tipping over. Your forklift running over a foot.
From the National Safety Council:
"It may come as a surprise that the second leading cause of unintentional injury-related death is falls. In 2019, 39,443 people died in falls at home and at work...For working adults, depending on the industry, falls can be the leading cause of death."
The NSC quickly follows those alarming numbers with this: Falls are 100% Preventable.
The Yard Ramp Guy's trusted manufacturers put curbs, averaging eight inches high, on the sides of our yard ramps. This helps the forklift stay on the ramp should it head for the rails.
Whether stationary dock ramps or portable yard ramps, they also have serrated grating for excellent forklift traction. This open design prevents slipping and buildup of water and debris.
Proper Planning Prevents Poor Performance. The 5 Ps applies to business plan strategy, yes.  And just as importantly, the 5 Ps applies to what we might think is a simple, repetitive move of inventory up and down an incline.
In our view: when it comes to the workplace, one of the pillars of a company's business plan is ⏤ or needs to be ⏤ worker safety.
This week, our man McCoy Fields is building bridges. The natural way.
Click HERE to update your bridge education.