And Time Flies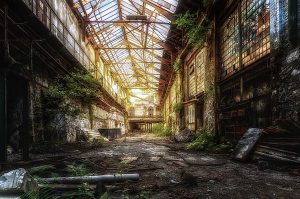 We like a recent article from our friends at ThomasNet: "The Key to Inventory Management: A Closer Look at Warehouses."
In it, they spotlight the manufacturing, storage, and distribution workflows as rightfully major links in the supply chain, all through the prism of warehouses. And they describe a number of types of warehouses. Three of them, briefly:
Storage Warehouses "often house slow-moving goods, providing a place to safely store them without cluttering production and distribution warehouses, and usually contain pallets of slow-moving goods for transportation to distribution centers and sorting facilities." Picture lots of forklifts and pallet racks.
Distribution Warehouses "are generally responsible for order fulfillment and house fast-moving goods. They are particularly common for the fulfillment of consumer packaged goods and other products." Picture a standard pick, pack, and ship operation.
Sorting Warehouses "are used specifically for collecting large bulk shipments and breaking them down into smaller, more manageable chunks for distribution warehouses to ship."
The Yard Ramp Guy has been in business since 2011, and in that relatively short period of time we've seen some rather prominent shifts in how the supply chains operate. In particular, the sorting warehouse environment has grown.
Leading part of that charge is Amazon's model, an interesting flow process of storage, distribution, and sorting facilities. It's the "last-mile" delivery scenario that has become an industry disruptor. Depending on factors like membership and local availability of any given item of inventory, we might receive a package via established courier services, an Uber-like driver in his/her car, or what the company calls the Amazon Locker, a local public location the customer accesses directly to collect a package.
So, that's one new development at the end of this house-that-Jack-built scenario.
What interests us in the warehousing situation is time. CNN might have "accidentally" started this revolution in 1980, when Ted Turner began his 24-hour cable news channel. Suddenly, the news wasn't radio's every hour on the hour broadcast, or the three national TV networks bringing us half an hour of evening news. And then the Internet happened. Today, the news cycles turn at a dizzying clip, leaving traditional journalism scrambling to adapt.
Time seems condensed in many arenas of personal and business life. With that, consumer demand in many of the industries we serve also has accelerated, to the point that the ability to deliver goods in a timely way is more prominent than ever when companies evaluate two or more competitors toward contracting into a partnership.
FedEx's slogan – "When it absolutely, positively has to be there overnight" – now seems outdated, yes? Now we have same-day and even two-hour delivery for certain things.
All of which circles back to the warehouse landscape. Manufacturing and distribution centers work best when they expedite their physical workflows in smart, strategic ways. That includes, in no small measure, the ability to move inventory to and from delivery vehicles.
And that's where we play an important part in the process. With minimal maintenance, our forklift ramp and loading dock inventory functions solidly and without complaint. We're proud to contribute.
This week, our man McCoy Fields discovers a man who spent years working on his map. Naturally, McCoy compares it to lawn care.
And it all makes perfect sense. Click HERE.