'Tis the Season
We know that yard ramps provide the perfect tool for the unloading and loading of tractor-trailers, railcars, and semi-trucks. If you project a flux in productivity or deliveries, or if you are in the middle of a heavier traffic season for your business, let's consider a rental rather than a purchase.
Let's say you only need to use yard ramps temporarily, or on a short-term scale. For that, it makes far more sense for yard ramp rentals rather than buying, especially considering the price differential. The Yard Ramp Guy is here to help you find  yard ramp rentals to meet all your needs.
Whether renting or purchasing, first and foremost is the safety and well-being of your employees. Assure that your equipment is sound so that no one gets injured on the job. Features that are standard with all of our yard ramp rentals are designed to put your mind at ease.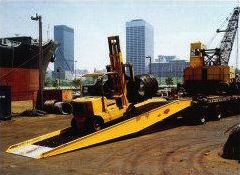 Yard Ramps come equipped with one of two types of mobility and leveling mechanisms: the 2-gear hand-crank (see photo above) and the hydraulic hand pump. Each requires minimal physical effort and is engineered to place the yard ramp into proper position at a truck, railcar, container, or dock. This ease of mobility allows your dock personnel to conduct their tasks more efficiently and safely than the manual labor required for loading and off-loading without a portable loading ramp.
Additional safety features include steel serrated grating on the floor of every ramp. The grating is designed to make sure that your forklifts have all the traction they need as they drive in and out of the railcar or truck compartment. And The Yard Ramp Guy provides safety chains in every rental for securing your ramp to the trailer or loading dock.
With so many options for yard ramp rentals, you might find a challenge selecting the right one. We're here to streamline the process and help get you focused on your business.
Your Yard Ramp Guy representative is skilled at assessing your needs to find a solution that will be perfect for your situation.
And if the time comes when you want to transition from a rental to a purchase scenario for your business, we can help you then, too. For all your requirements on yard ramp rentals, you can turn to your friends at The Yard Ramp Guy. We're here to exceed your expectations.
---