Getting There
The Yard Ramp Guy delivers yard ramps. This might sound simple to our potential clients and be something expected by our existing clients. Yet, when you place an order, we deliver—literally—and always look at optimal logistics to reduce costs strategically for your optimal mobile yard ramp transport.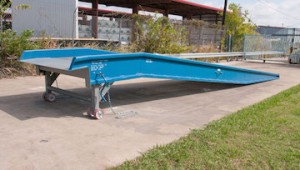 As a small fraction of our clients have the ability to pick up their own yard ramps, one of the major factors in our ability to provide such excellent service across the continent resides in our professional relationship and smooth communication with transportation companies.
For example, The Yard Ramp Guy has a superb working relationship with NATCO—North American Transport Concepts. We reached out to them about four years ago, very much liked their approach, and have been working closely with them ever since. And when we say NATCO, we're talking about Cori Eckley, NATCO's Vice President.
When we're looking to sell or rent a ramp, we contact Cori, or a member of her team, for a quote on delivery. Later, after contracting with the client, we issue a detailed purchase order to NATCO including points-of-contact names and numbers at the pickup and delivery sites. Cori then takes over the entire process.
The Yard Ramp Guy considers NATCO to be co-workers in a "logistics department" and entrusts them to engage directly with our clients. They are give full authority to make decisions on behalf of The Yard Ramp Guy, if necessary. NATCO is copied on key emails to the client, most particularly our "Yard Ramp Arrival Information" email which includes a copy of the yard ramp manual and off-load instructions.
Cori then contacts the receiver, verifies the information, and confirms the specific dates and times. Once NATCO facilitates the equipment, they'll update us and let us know when they've successfully completed the delivery.
Says Cori, "We've seen The Yard Ramp Guy business expand into new and used equipment. Watching this evolve has been fun because we've also evolved along the way.
"Service is a key indicator to their business. We really appreciate the way The Yard Ramp Guy is able to find solutions for clients. They think outside the box, and they look for the best avenue to meet their clients' needs."
Simply put: The success we've enjoyed is rooted in personalizing the professional experience we have with our vendors.
---