Short-Term: The Long View
When it comes to problem solving, most often simplicity is the best approach. The Yard Ramp Guy strives to make your yard ramp experience as simple and streamlined as possible. So, what happens when the problem itself seems complicated?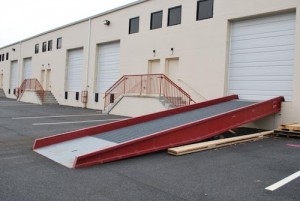 For example, let's consider short-term mobile yard ramp rentals. And by this I mean very short-term, like one-day to one-week long. (The scenario is more common than you'd think: media companies, stadiums, arenas and convention centers, TV and movie production studios, and event managers require short-term rentals on a regular basis.)
To the best of my knowledge, The Yard Ramp Guy is the only company in the continental United States offering AND delivering a solution to the request for short-term mobile yard ramp rentals. The industry standard for a minimum rental duration is one month. No one considers renting by-the-day to be cost efficient.
Why is The Yard Ramp Guy the only company seriously taking on the challenge of short-term rentals of yard ramps? This special three-part series examines the challenges related to short-term rentals and how The Yard Ramp Guy goes about solving them.
∞ Challenge #1: Freight Cost; specifically the cost of returning the ramp.
The trick to being a good value and great solution is mitigating the cost of freight. Renting a portable forklift ramp requires the renter to prepay the delivery and return freight.
If the nearest ramp location is 650 miles away AND the renter is expected to return it to the same location, the total cost for the rental contract is $1,200.00 for the rental fee plus round-trip freight of 650 miles each way. That's a big commitment for most 1-day, 2-day or 1-week needs.
√ Solution to Challenge #1: The Yard Ramp Guy is nearby.
Ideally, we like to see freight charges less than $1,200 each way. To that end—and towards streamlining our logistics—we've established ten depots that are strategically located around the country: 
Rutherford, NJ

Toledo, OH

Orlando, FL

Atlanta, GA

Nashville, TN

Dallas, TX

Kansas City, MO

Denver, CO

Anaheim, CA

The Bay Area, CA 
Geographically, a rental ramp from The Yard Ramp Guy is within 250 miles of 90% of the population for the contiguous United States. This knocks our average return freight down considerably. Here's an example: You are in Omaha, NE and my closest available ramp at the time you need it is in Toledo, OH. You'll pay the freight from Toledo, OH to Omaha, NE. But, The Yard Ramp Guy won't force you to return the ramp to Toledo, OH when we have a depot in Kansas City significantly closer to Omaha, NE.
Coming up next week: "Accountability; or, Who's the Real Customer?"
---