Quantity Melds with Quality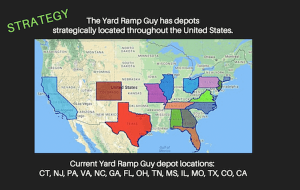 Straight to the point: We are, proudly, the only company in the United States offering yard ramp rentals in the United States
Our Rent Now listings describe real, actual yard ramps. Currently, two-thirds of our listings are available for immediate delivery, with the balance becoming available some days or a few weeks from now.
There are other companies that encourage you to phone them for a quotation; they do not maintain a fleet of available ramps for rent and will typically attempt to turn the conversation into a sales pitch for a new yard ramp.
Our interest and our bottom line: working with you to secure a yard ramp scenario that's right for your business, not ours.
With that in mind, we strategically position our yard ramps by locating most of our inventory within 90% of the U.S. continental population. (And let's not forget our recent delivery to Hawaii.) That's for everyone's benefit: this strategy reduces freight costs and results in faster delivery times for our customers.
Why rent? If your business has seasonal needs, an outright purchase might not be in your best interest. And, naturally, if a purchase is not within budget right now, the rental scenario would help reduce your expenses (though we encourage you to review our financing option for purchases).
A rental also allows you to kick the tires—literally (if you're renting a mobile yard ramp) and figuratively (for a stationary dock ramp)—to determine how the equipment benefits your operations.
Keep in mind that the longer you rent, the cheaper your monthly payment will usually be.
Contact us to begin the process. We thank you for the opportunity to earn your business.